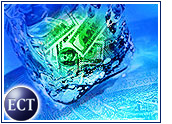 WorldCom has agreed in U.S. district court to freeze its assets for 80 days if the banks pursuing its debt will refrain from legal proceedings for 70 days.
A group of 25 banks has sued the troubled telecom company, which is teetering on the verge of bankruptcy after the sagging economy and questionable accounting practices cast it adrift in a sea of red ink.
At the center of the banks' suit are accusations that WorldCom received US$2.5 billion in loans from the banks under fraudulent terms, while claiming it was financially healthy.
The banks originally attempted to prevent WorldCom from spending the money, bringing the beleagured company even closer to bankruptcy. Many analysts believe that WorldCom either will declare bankruptcy by the end of the year or will break up its organization and sell off some of the pieces.
Day in Court
WorldCom met the banks in district court hearings to sort out the loan situation, and the banks suggested a freeze was in order. WorldCom agreed, and Judge Jed Rakoff asked the U.S. Securities and Exchange Commission (SEC), which has accused WorldCom of fraud in a civil suit, to approve the move. Rakoff is also presiding over the SEC suit.
After reviewing the freeze agreement, the SEC gave it its blessing.
Rakoff gave a preliminary go-ahead to the agreement if all of the banks concerned will sign off on it, and bank attorney Robert White said he will attempt to comply with Rakoff's demands.
WorldCom has been under pressure from both the SEC and Congress, as well as its own shareholders, to explain how it sank to such financial lows and to account for nearly $4 billion it "misplaced" as it shuffled its books.
Long List of Legal Woes
Two Congressional committees have launched inquiries into WorldCom's business practices, and former chief financial officer Scott Sullivan was fired as a result of the scandal.
Current WorldCom CEO John Sidgmore expressed "shock" over the shifting $4 billion and asserted that "underneath all this, we remain a company with $30 billion in revenue and 25 million customers. While this is an undeniable setback, I'm convinced … WorldCom can emerge as a stronger and even more competitive force in the telecommunications industry."
But analysts are not so sure that WorldCom can come back from the brink of disaster. By the end of the year, like Enron before it, the company may have to declare bankruptcy.
Customer Confidence Hurt
Customer confidence has been affected as well, Giga Information Group analyst Lisa Pierce told the E-Commerce Times. "Certainly, in terms of the customer inquiries we are seeing, this is shaking confidence," she said.
Pierce noted that current customers are not likely to leave, as they are bound by contracts. But most are seeking a secondary provider, and "I think they should," she said.
"WorldCom won't be signing a lot of new business customers," she added.
Pierce contended that if telecom companies want to allay customer and investor concerns, they should voluntarily review their books.
"Confidence has to be restored — and quickly," she said.