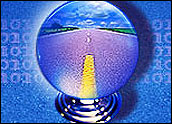 While WorldCom has been severely battered by revelations of improper accounting and accusations of fraud, the company has what it takes to survive the current crisis, according to a new report from research firm The Yankee Group.
"Unlike other struggling telecommunications companies, WorldCom has assets, customers and a revenue stream, and will not go gently into that good night," said Eileen Eastman, vice president of business communications strategies at The Yankee Group.
Still, Eastman acknowledged, bankruptcy is the most likely outcome at this point. "Bankruptcy will be painful, but the pain will be acute rather than chronic," she said.
Troubles Mount
The Yankee Group's report comes as various external investigations move closer to determining what happened at WorldCom. The telecom company has announced plans to restate earnings for all of 2001 and the first quarter of 2002, after discovering that US$3.8 billion worth of expenses were improperly accounted for during that time period.
On Wednesday, the U.S. Securities and Exchange Commission (SEC) filed a civil fraud suit against the company. Congressional investigators said on Thursday that they will subpoena various executives to testify, and a number of law firms filed the first of what is expected to become a torrent of investor lawsuits.
Yet, despite the swirl of allegations and an overall malaise in the telecom industry due to the economic slump, WorldCom should not be counted out, Eastman told the E-Commerce Times.
After expressing "shock" over the revelations, WorldCom CEO John Sidgmore asserted in a video statement that "underneath all this, [WorldCom remains] a company with $30 billion in revenue and 25 million customers."
One in Four Chance
According to Eastman, there are four possible scenarios for WorldCom in coming weeks and months: The company could voluntarily shut down; it could be acquired; it could file for bankruptcy; or it could continue to operate without bankruptcy protection.
The first two options are least likely, Eastman said.
Even without the shelter of bankruptcy, WorldCom conceivably could avoid shutting down for as long as a year, barring additional damaging revelations.
An acquisition is a "possibility but not a probability," Eastman added, because potential buyers likely will be deterred by possible lawsuit payouts. Competing telcos will have more interest in plucking individual assets from the WorldCom tree than in taking on the whole company, liabilities and all.
Staying the Course
Eastman said that WorldCom might continue to run outside of bankruptcy if it can convince creditors to restructure its substantial debt burden, which is held by a host of banks, insurance companies and pension funds.
CEO Sidgmore said shortly after the revelations that the company has a strong cash flow and no debt immediately coming due.
Meanwhile, a massive workforce reduction plan — which, at least initially, relies heavily on attrition and termination of contract workers and planned sales of wireless businesses and South American business units — could hold off a filing.
"The good news is WorldCom has assets to sell," Eastman said. "The bad news is the price for those assets is at an all-time low."
WorldCom might need to consider selling larger assets, such as its MCI consumer business, Eastman noted, and some of its holdings in Europe, where the company has a mixed track record. Such sales over time, however, would have the effect of "keeping the company in a state of continual turmoil."
Skepticism on the Rise
The company's woes have rippled through the economy, negatively affecting such investors as New York State's pension fund. There is growing fear that investors — both domestically and abroad — will lose confidence in a U.S. economy hit hard by financial scandals like those associated with Enron, ImClone, Tyco and now WorldCom.
Initial news of the $4 billion deception sent WorldCom stock spiraling to less than $1 per share on the Nasdaq. Shortly thereafter, per-share value hit an all-time low of just 9 cents. But Asian markets were less affected; when news broke of the congressional inquiries into WorldCom's activities, those markets were not jolted significantly.
Restoring Confidence
In the United States, customer confidence clearly has been affected. Giga Information Group analyst Lisa Pierce told the E-Commerce Times that "certainly, in terms of the customer inquiries we are seeing, this is shaking confidence."
Pierce noted that existing customers are not likely to just "walk out the door" because they are bound to contracts. But most are seeking a secondary provider — and, she added, "I think they should.
"WorldCom won't be signing a lot of new business customers," she noted.
Pierce also contended that if telecom companies want to allay customer and investor concerns, they should review their books voluntarily.
"Confidence has to be restored — and quickly," she said.
Bankruptcy, Done Right
Eastman agreed with the majority of analysts who say that a bankruptcy filing, while not inevitable, is likely. And such a filing could speed up the process of sorting through assets and determining what type of WorldCom emerges.
"Filing for bankruptcy has some significant positives for the company's long-term viability," Eastman said.
The main risk of bankruptcy is that WorldCom could lose a substantial part of its customer base during restructuring. Analysts already have begun to recommend that corporate customers of WorldCom seek out backup providers.
More importantly, WorldCom risks losing key employees during a lengthy restructuring period and must have access to capital in order to perform the technical upgrades that high-level customers will demand.
Whatever happens, the first step is obvious, according to Eastman.
"WorldCom must come completely clean about its financial situation," she said.