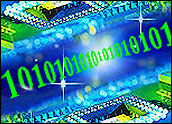 The much-talked-about 64-bit microprocessors coming down the pike from Intel (Nasdaq: INTC) and Advanced Micro Devices (NYSE: AMD) may one day help PC servers rival the power of Unix boxes and may transform the PC desktop. But experts do not expect users to adopt these new processors right away. And an important question looms: Do businesses really want to make the switch to 64-bit computing? In the short term, the answer is probably no.
"The imminent arrival of 64-bit computing has been wildly exaggerated," Peter Kastner, executive vice president at Aberdeen Group, told the E-Commerce Times.
Not Even Close
Delays, technological snags and lack of demand have kept what was once viewed as a promising technology at bay. Kastner noted that in 2000, Hewlett-Packard forecast that sales of 64-bit Itanium processors would surpass unit sales of 32-bit chips by the end of 2002.
Obviously, that has not come to pass. And a long time will probably elapse before 64-bit becomes the norm. While Intel has produced its Itanium processors, drawing accolades from industry watchers, arch-rival AMD's long-promised 64-bit Clawhammer chip has been delayed.
When the 64-bit processor battle eventually does erupt, it may resemble the war for desktop market share. For many years, Intel and AMD have competed in the desktop market, with Intel dominating and AMD trying to gain ground. According to research firm IDC, AMD's share of the worldwide PC market declined from 19.8 percent in the first quarter of 2002 to 16.8 percent in the second quarter, while Intel's market share rose from 79.3 percent to 81.9 percent.
Will AMD Rule?
However, AMD has put considerable effort into developing 64-bit technology and may be poised to dominate the market since its chip design allows it to be backward compatible with 32-bit programs — a particularly vital feature for the consumer market. The chip uses the same x86 specification as currently available PC microprocessors.
"Could a 64-bit microprocessor compatible with 32-bit become [a success] and lead AMD to new riches?" Kastner asked. "That's what Wall Street is salivating over."
Personally, Kastner said he takes a more conservative view, noting that "for those of us in the business world trenches, it won't do us a bit of good. We have a more sober forecast for 64-bit going forward."
Getting a Leg Up?
Still, offering a microprocessor that is compatible with 32-bit applications may help AMD conquer a major obstacle to 64-bit computing: There are no significant applications currently built around the 64-bit model.
AMD said it believes its backward compatibility will give it an advantage over Intel and will eliminate the need to convince users to abandon the popular 32-bit computing model in favor of 64-bit computing.
"Intel's approach ignores the industry's multibillion-dollar investment in 32-bit architecture," AMD spokesperson Cathy Abbinanti told the E-Commerce Times. "They're forcing developers to rewrite all their code. We don't believe they have a technology that addresses the market's needs."
Where Are the Apps?
But although AMD and Intel seem to be preparing for battle, Kastner noted that very few applications currently could benefit from the power of 64-bit computing. "Those that crunch huge numbers or need a lot of memory" could use the technology, he said. "Some middleware, particularly databases, can take advantage of the [memory offered by] 64-bit, and so can some scientific and knowledge management applications."
Even those applications do not yet justify companies abandoning 32-bit architecture or their investments in the popular, powerful Unix computers. "Intel with Itanium and AMD with Clawhammer will face significant entrenched competition from Unix [vendors], such as Sun and IBM." Enterprises, he noted, are simply not likely to "rapidly junk Unix units that work and are already paid for."
Fly in the Ointment
Another fly in the ointment for 64-bit microprocessors is Linux. The marketplace in part depends on how rapidly Linux will be accepted, said Kastner.
AMD is positioning itself to exploit the Linux market. The company recently demonstrated a four-way server built around its Opteron chips and used a 64-bit version of the Linux operating system to demonstrate Opteron's ability to work in mid-range to high-end servers.
Noting the slow shift from 32-bit to 64-bit architecture, IDC analyst Mark Melenovsky said that by focusing some of its energies on Linux, AMD will have more opportunity "to try to gain some presence in the market."