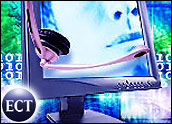 When some shoppers walk into a retail store, their first act is to make a beeline for an employee to ask for help.
This tactic makes sense: Retail employees can suggest a good book, help customers find a particular recording of Beethoven's Fifth, and even provide (hopefully)honest feedback on whether a pair of pants looks good.
Shopping online is a far different experience. Withfew exceptions, customers are on their own. They must do their own research, find the product they want, make the purchase and even arrange delivery.
But this do-it-yourself setup may be harming e-tailers. A dearth of good customer service is one reason why less than 3 percent of retail purchases are made online.
Benefits of the Web
How did consumers come to accept such a double standard?
One reason may be that customers are willing to do a little more work online in exchange for the ability to shop from home at any time of day or night.
"Most people use the Web because of the convenience factor, and that can be considered customer service," Gartner analyst Adam Sarner told the E-Commerce Times.
In addition, comparison shopping is easier on the Web. Consumers can check multiple sites in a fraction ofthe time it would take them to visit or call one or two brick-and-mortar stores.
The Web also makes it easy to find obscure items, such as rare books. A physical store would probably be less helpful in this respect.
And, of course, there is the lack of sales tax. The tax break can be abig plus in major cities, where tax rates often approach 10 percent.
Brick vs. Click
In addition to other benefits associated with e-shopping, online customer service actually may stack up favorably in comparison with some real-world scenarios, according to Giga Information Group research director John Ragsdale.
"When was the last time you had a clerk in a storehelp you? Or explain how a product works? Or know howto use the cash register? Or even get off of theirpersonal phone call long enough to acknowledge you?"Ragsdale asked.
In many cases, he said, online stores offer better customerservice than their brick-and-mortar counterparts, evenif there is no direct human interaction.
"The ability to read a list of FAQs [frequently asked questions], search aknowledge base or chat with a Web assistant is muchbetter than the typical [service] you receive [from]underpaid, overworked and completely disinterestedemployees in most retail stores," Ragsdale noted.
The Great Equalizer
Despite some problems with online service,the decline of customer service in general will drive more people online, according to Ragsdale.
"I think the best thing that ever happened to e-commerce is thedeath of the service industry in America," he said.
Ragsdale worked in retail for 12 years and said he remembers that employees were required to take amultiday training course on the company's history,customer service skills, how to deal with difficultcustomers and how to use the register before theywere allowed on the sales floor.
"I think it is pretty safe to say that is nothappening in most retail stores today," he commented.
'At Their Mercy'
However, a slump in brick-and-mortar customer service does not mean e-tailers should be content with the status quo. Several problem areas remain to be addressed, analysts said.
The most serious problem with shopping online occurs when aWeb-only store does not adequately handle a complaint or question, according to Ragsdale. Unlike at a brick-and-mortar store, there is no way to ask for the manager of an e-tail outlet.
"When there are no phone numbers or e-mail addresseslisted, you are at their mercy," Ragsdale said. "Youoften are funneled to a form to fill out, instead ofan e-mail address, so you don't even have a copy ofthe complaint for your records."
Even worse, when customers do send e-mail or fill out a formonline, according to Gartner's Sarner, companies sometimes do not respond for two or three days.
Premium Blend
Even when e-tailers are not handling complaints, they must focus on providing better service, especially before transactions are complete.
"The ability to guide the consumer through the buyingprocess is not there yet," Sarner said. He cited gaining consumers' trust, assessing their needs andanswering pre-checkout questions as areas that still need work.
The ultimate trick, he said, is to create a good blend of online andoffline customer service.
"It's not about just one channel. It's about using the best attributes of each channel to complete the whole customer picture."