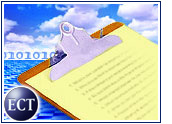 March was not a big month for e-commerce, according toInternet research firm Jupiter Media Metrix. For themost part, Web users put away their wallets andflocked to sites about religion and entertainment,though travel also gained ground among online users.
Easter and Passover observances during the month drove traffic to religion sites, according to Jupiter. Between February and March, the number of Web users who visited religion sites at home or at work grew from 4.2 percent to 6.4 percent of the total online population, a 52.4 percent increase.
"While religion sites have grown steadily over thepast year, the surge in visitors in March was quitesignificant, with traffic to the category double whatit was just six months ago," Jupiter analystStephen Kim said.
The fastest-growing religion sites during the monthincluded Christianitytoday.com, Christianbook.com,Catholic.org and Jewishworldreview.org.
Staying Entertained
Entertainment also was a strong Web theme in March. Five of the top 10fastest-growing categories measured by audience reachinvolved entertainment or hobbies, including multimedia, genealogy, humor, radio and entertainment news.
Driven by interest in the Academy Awards, E! Online wasthe fastest-growing property between February andMarch, with its number of unique visitors growing 63percent to 7.7 million.
Slow Shopping
E-tail sites were less popular, with home furnishingsites showing the most growth. According toJupiter, home furnishing e-tail sites showed a 30.4percent increase in audience reach, going from 6.3percent of online users in February to 7.9 percent in March.
Travel was also popular as Web users began to plan for summertrips. In Jupiter's ranking of the top 50 Webproperties for the month, Expedia was number 31 withjust over 12 million unique visitors and Travelocitystood at number 34 with just 55,000 fewer visitors than Expedia.
Two travel sites were also among the top-gainingproperties in the month. Trip Network, whose properties includetravel site Trip.com and discount travel seller Cheap Tickets, was the third-fastest gainer during the month, with a 48.8 percent increase in unique visitors. Visitors toTravelocity rose 31.7 percent between February andMarch, making it the ninth-fastest gainer.
Old Standbys Strong
And online shoppers did not abandon the old standbys.In the top 50 most-visited sites during the month,eBay and Amazon each fell one spot to numbers eight andnine, respectively. Both sites had nearly 29.3 millionvisitors.
Ticketmaster moved up two positions in the standings to number 19 with 17.6 million uniquevisitors, up from 15.5 million in February.
Online users may not be doing much shopping, but their numberscontinue to grow. According to theJupiter report, there were 114.1 million online usersin March, up 2 percent from 112 million in February.