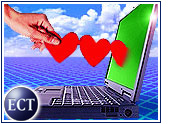 Online shoppers were outnumbered in February by surfers interestedin the Olympics and taxes, but e-commerce sites –including those dedicated to flowers, gifts andgreetings — were still among the most-visited Web locales, according to a report by Jupiter Media Metrix(Nasdaq: JMXI).
Despite the fact that e-commerce had a relatively slowmonth in February, Jupiter Media Metrix analyst MainakMazumdar told the E-Commerce Times that e-tailers have no cause for concern.
"E-commerce is still a robust area. People are buyingand shopping," Mazumdar said. He noted that online shopping traditionally dips a bit after the holidays but recovers slowly over the next few months.
"Except for Valentine's, February tends to be a slowmonth for retail," and that is reflected in onlinesales, GartnerG2 analyst David Schehr added in an interview with the E-Commerce Times.
Online Buying
The Olympics drove the most online traffic inthe month. Visits to MSNBC, already the top-ranked newssite, increased 26.3 percent from January to 20.2million in February, boosted by increased visits toNbcolympics.com, Saltlake2002.com and Olympics.com.
But even in the shadow of the Olympics, some e-commerce sitesmanaged to make a respectable showing,according to the report.
Ten e-commerce companies ranked among the top 50most-visited sites in February, with EBay and Amazon holding thenumber six and seven spots, respectively. Ticketmaster, Homestore, Expedia, Travelocity and BarnesandNoble.com also were on the top 50 list.
As consumers' thoughts began to turn to spring and summervacations, hotel and resort sites saw a 16 percentrise in audience reach, to 10.9 percent.
Schehr said that while he does not foresee a dramaticincrease in online shopping in coming months,e-tailers might see a slight pickup as Web shoppersbrowse for gardening tools, travel and new spring clothes.
Love and Taxes
Tax sites saw the fastest audience growth in February, reaching 7.5 percent of Web users, up 29.3 percent from January. Irs.gov and Turbotax.com were two of the topthree gaining properties, with visitor boosts of 44.3percent to 10.8 million and 43 percent to 5.3 million,respectively.
Driven by Valentine's Day, sites dedicated to flowers,gifts and greetings increased their audience reachby 17.6 percent from January to 28.8 percent of the total online audience. Hallmark and American Greetings were two of the fastest-growingonline properties in February, and American Greetingssites were the 13th most-visited during the month.
Four newcomers — Jewelrynetwork.com, Flower.com,Bhteddybear.com and Bluefootbear.com — also made the mostof Valentine's Day, reporting a total of 4.9million visitors in February.
Sites selling jewelry and luxury goods reached 10.4 percent more Web users in February than in January, with anoverall audience reach of 7.4 percent.