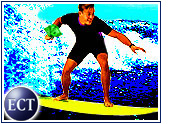 With the holidays over, Internet users worldwidedid more surfing than shopping in January, accordingto a new report from NetRatings(Nasdaq: NTRT), which measured at-home Web use in 29countries.
In fact, Internet use skyrocketed in January, with peoplespending more time online, viewing more pages andlogging on more often than they did in December, thereport said.
Browsers, Not Buyers
But among the top 25 sites, it was search engines, not e-tailers, that saw the biggest gains in unique visitors during the month. According to NetRatings analyst Richard Goosey, this indicates that people are using the Internet more often to find information than to buy goods and services.
"With the close of the holiday shopping season,Internet users were back to the business of truly'surfing' the Internet, and they logged on to Ask Jeevesand Google to conduct those online searches," Gooseysaid.
Forrester analyst Christopher Kelley said he is notsurprised that global e-commerce was weaker inJanuary.
"The holiday season is certainly thestrongest for e-commerce, and in a similar fashion totraditional retail, January sales should not beexpected to be as strong as December sales," Kelleytold the E-Commerce Times.
Average time spent online during January was 10hours and 17 minutes, up 10.26 percent over December figures.Web users visited an average of 47 different domainsin the first month of the new year, up 9 percent over December.
Goosey said those numbers "underscore a change from more targetedshopping activity in December to general Internetsurfing in January."
Engines Beat E-Tailers
Yahoo! was the most popular site during the month, with its number of unique visitors increasing 3.58 percent. On average, users visited the site nine times in January and spent a total of one hour and eight minutes there.
Ask Jeeves and Google both saw bigger increases in their number of unique visitors — 13.42 percent and 12.5 percent,respectively — but visitors spent less than 20 minutesduring the month on both sites. European portal andservice provider Wanadoo also saw a big jump invisitors, with unique users up 13.1 percent.
E-tailers fared less well. Amazon ranked seventhamong the top 25 sites, but its number of unique visitors fell 4.26percent. Users visited the site an average of twice during the month, spending just 12 minutes there.
On the other hand, EBay posted a gain: Its total unique visitors increased 1.91percent. Users spent an average of one hour and 35minutes on the auction site in January.
Growth Expected
Despite the reported decline in overall e-shopping activity, NetRatings analyst David Day said he expects e-commerce to continue to grow.
"Surfing to commerce sites such asAmazon.com is seasonal, so we'd expect traffic to falloff somewhat after the Christmas period," Day told the E-Commerce Times. "However, wealso see underlying commerce activity continuing togrow on a year-on-year basis as new surfers continueto join the Web and existing users become morerelaxed about entering credit card numbers and otherconfidential information to buy goods and services."
More Users
Overall Web use was up in January, with anactive universe of more than 260 million people — more than 6 million more than in December.
Most of that increase came in the United Kingdom and Korea,where the number of active Web users increased by more than 3million in each country. The UK increase, which Goosey said is thebiggest ever recorded, was due to falling prices,better availability of fixed-rate connections andheavy advertising by AOL and other major Internet companies.
Web use increased in most other countries, too, but it declined inJapan, Sweden, Hong Kong, Argentina, India, Norway,Singapore, Israel, New Zealand and South Africa.