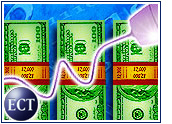 E-commerce grew by 12 percent in 2001 despite a sluggish U.S. economy and a dismal performance by offline retail, according to a new report from Forrester Research.
In recapping 2001, Forrester analyst Carrie Johnson said online retail stood out "in a year that most retailers would otherwise like to forget."
Silver Lining
"Online sales are a silver lining to a year that can only be characterized as a dark cloud for retail," Johnson said. She noted that the National Retail Federation estimated yearly sales growth for all retailers at 2 percent, and that same-store sales were nearly flat in the fourth quarter.
In comparison with brick-and-mortar retail's lackluster performance, Forrester said, online sales grew to US$47.6 billion in 2001, a 12 percent increase over 2000 sales levels.
Although this figure is well short of the $51.5 billion Forrester previously had projected for 2001, it represents "a healthy growth rate in light of the economic downturn."
Several reports have suggested that online shopping benefited from the U.S. recession in part because consumers turn to e-commerce for bargains.
In recent weeks, a slew of earnings reports showed a range of e-commerce companies — including Drugstore.com (Nasdaq: DSCM), Autobytel (Nasdaq: ABTL) and Expedia.com (Nasdaq: EXPE) — posting strong revenue gains.
Giant Country
E-commerce sales in 2001 also centered more than ever on the big-name players, especially during the holiday season.
Together, Amazon.com (Nasdaq: AMZN), which reported $1 billion in sales for the fourth quarter, and EBay (Nasdaq: EBAY), which said it booked $2.7 billion worth of sales, made up 22 percent of all online sales during the last three months of the year.
"The days of unchecked e-commerce growth may be over, but online retail kept ticking," Johnson said.
Big Winners
The end of 2001 was especially good for online retailers in the toys and apparel categories, Forrester found. Toysrus.com posted a 27 percent sales increase, and BlueLight.com saw sales grow by 20 percent, despite the financial woes of bankrupt parent Kmart.
Clothing makers also saw strong gains. Landsend.com saw a 35 percent sales increase, for example, and Spiegel Group saw online sales rise 20 percent despite a decrease at its offline stores.
Change of Focus
E-commerce also saw important shifts of focus in 2001 that may bode well for its long-term prospects, according to Forrester. Most notably, companies began to see benefits from offering customers multiple ways to buy.
Many businesses also gave up on costly promotions as they paid more attention to the bottom line.
"This year goes on the record as the year the tide shifted from promotional spending to profits and channel optimization," Johnson said.