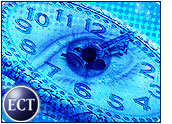 Online consumers spent more time at online bank and brokerage Web sites in January than at any other type of site, including portals and search engines, according to a new report from Nielsen//NetRatings (Nasdaq: NTRT).
The research firm said 44 percent of active Web users, or about 51.6 million people, visited a finance Web site last month. Surfers spent an average of about 21 minutes browsing at those sites, according to the report.
"Part of what you're seeing is that now financial research is that much more important," NetRatings senior Internet analyst Patrick Thomas told the E-Commerce Times. "Investors are really doing their homework, rather than just jumping online and buying a stock after hearing about a hot dot-com at the water cooler."
Serious Business
Another reason for heavy traffic at finance sites, Thomas said, is that they "attract serious and engaged consumers who go beyond casual Internet activity."
Overall, financial Web sites that let consumers perform transactions — such as banking, bill payment and stock trading sites — were found to be "stickiest," meaning that consumers stay longer.
Those longer stays will pay dividends for companies interested in establishing a sense of trust, creating customer loyalty and building brand recognition.
"The longer a person spends at my site, the less likely they are to click over to a competitor's site," Thomas said. "There is an opportunity cost for them to leave, and the longer they stay, the higher that cost."
Eyeballs into Dollar Signs
Many financial sites also have successfully transformed their traffic into profits.
E*Trade (NYSE: ET), which was the most-visited financial site on the Web in January with a unique audience of 1.8 million people, recently recorded its sixth straight profitable quarter and is in the midst of a massive online and offline expansion.
Rival Ameritrade (Nasdaq: AMTD), meanwhile, recently reported a return to profitability after a dismal 2001 that saw online trading levels plummet.
"The biggest companies have done a great job of establishing their brands and building trust with consumers," Thomas said.
Smaller players, including Web-only banks, also have recorded strong improvements recently, with pure-play Netbank.com ranking among the top 10 financial sites. "The consumer has definitely started to come around," Thomas noted.
Crunching Numbers
In terms of sheer numbers of surfers, money-related sites ranked third behind portals, search engines and community sites, which attracted 110 million unique visitors during the month, and news and information sites, which drew about 64 million visitors.
But finance sites held surfers' interest much longer. News sites had the second-longest average stay, at about 15 minutes. Family and lifestyle sites held surfers for 14 minutes, while travel sites came in fifth with an average of just under 12 minutes.
While E*Trade drew the most visitors, it ranked third in terms of duration of stay, behind Schwab.com and Datek.com. Ameritrade ranked second overall in number of visitors and fourth in time spent.
Others on the top 10 list of finance-related sites were Nasdaq.com, Wachovia.com, Tdwaterhouse.com and Csfbdirect.com.
NetRatings noted that its traffic counts do not include visitors to sites within the Yahoo! domain, where the finance category is among the most popular destinations.
The report comes after Jupiter Media Metrix (Nasdaq: JMXI) found that tax-related sites and travel sites topped the charts in January.