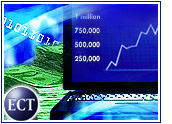 Online shoppers in the United States spent US$5.7 billion during the month of December, a 14 percent increase over 2000 levels, according to a report released Thursday by Forrester Research (Nasdaq: FORR) and Greenfield Online.
Spending levels also grew compared with November, when e-shoppers shelled out $4.9 billion. The number of households buying online increased as well, rising to 18.7 million from 16.8 million in November.
"Despite a difficult economic time, online shopping is here to stay," Forrester analyst Christopher Kelley said.
Revised History
The Cambridge, Massachusetts-based research firm said its numbers reflect a revision of its previously reported 2000 shopping levels.
Halfway though the 2001 holiday shopping season, Forrester raised eyebrows by lowering its spending forecast considerably and actually calling for a decrease in online holiday shopping.
That view was soon overshadowed by a raft of evidence that the holiday season had been a good one for many individual online companies and for the e-commerce sector as a whole.
Amazon.com (Nasdaq: AMZN) underscored that point earlier this week when it reported its first-ever profit and its first $1 billion sales quarter.
Forrester noted that because of its 2000 revisions, its numbers now show that online shopping did, in fact, increase year over year.
"We realized we had overestimated the number of shoppers that had been projected in the latter part of 2000," Kelley said. "Once the 2000 sales figures were amended, it supported our previous analysis that online sales were up from last year."
Numbers Add Up
Forresters new numbers are in line with an earlier estimate from Nielsen//NetRatings (Nasdaq: NTRT) and Harris Interactive (Nasdaq: HPOL), which said that $13.8 billion was spent during the holiday season, a 15 percent increase over 2000 spending levels.
For all of 2001, Forrester estimated $47.6 billion was spent online, compared with $42.4 billion in 2000.
Category Boost
Consumers spent more on average in December 2001 on the Web as well, with the average spend climbing to $304 from $293 in November.
Among the big-gaining categories for the month were books, which increased from $192 million in November to $280 million in December; toys and video games, up 55 percent to $474 million in December; and tools and hardware, which nearly doubled from November levels to $101 million.
Categories that saw decreases from November to December included office supplies, airline tickets and hotel reservations.
An earlier report from Jupiter Media Metrix (Nasdaq: JMXI) showed strong gains for e-tail sites in December, as EBay (Nasdaq: EBAY) and Amazon climbed the list of most popular sites in terms of Web traffic.