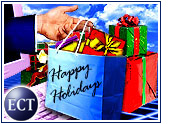 Holiday shoppers helped push online sales to nearly US$5 billion in November, a 36 percent increase over October but below November 2000 spending levels, Forrester Research (Nasdaq: FORR) and Greenfield Online said Monday.
The November spending figure means Forrester's forecast for an $11 billion holiday season — which would have been a 10 percent increase over 2000 — is in jeopardy.
"We've stuck with it so far, but it looks like going we're going to have to revisit that estimate," Forrester analyst Christopher Kelley told the E-Commerce Times. "It just shows that the economy is starting to languish for real. It tells the story that when there aren't dollars to go around, every channel is going to suffer."
Month to Month
Sales rose to $4.9 billion last month from $3.6 billion in October, making November the strongest month for online sales this year.
October sales had dropped as zero-percent financing deals drew shoppers offline, but many shoppers came back in search of bargains a month later.
"People will go where the deals are," Kelley said. "Last month, they went online to seek out the best deals they could in an attempt to stretch their dollars as far as possible."
More Shoppers, More Spending
The numbers of shoppers was also up in November to 16.8 million from 13.7 million in October. The average amount spent by each consumer rose to $293 from $265 in October, which saw both lower sales and fewer shoppers than September.
Forrester's figures are largely in line with those released last week by Nielsen//NetRatings (Nasdaq: NTRT), which estimated November sales at $5.3 billion.
On the Ups
Most categories saw increases over October, with the exception of big-ticket items such as furniture and appliances.
The biggest gainers included the toys and video games category, which saw sales more than double to $306 million, and food/beverages, which grew 80 percent over October levels to $153 million.
'Real Story'
Despite the short-term boost, the month was a disappointment when compared to November 2000 spending levels, when e-shoppers laid out $6.4 billion. That was the busiest online shopping month in the two years.
For year-to-year comparisons, a slowdown in travel spending was a factor, said Kelley, but was overshadowed by an overall decline in spending.
Forrester had said earlier that it would stick by its $11 billion estimate for holiday spending, predicting that consumer spending on gifts would replace lost travel expenditure.
"Part of it was travel," he said of the November-to-November spending plunge. "But only part. The real story is that the economy has finally caught up with e-commerce."