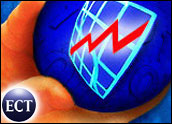 When does 10 percent growth for consumer e-commerce beat the old days of 100 percent growth? When the 10 percent growth comes amid an overall slowdown in consumer spending.
That's exactly what seems to have happened in November. E-commerce put a 10 percent increase on the board. A bit disappointing to many people, especially in light of the strong numbers being posted throughout 2001, but an increase all the same.
Ask a few traditional retailers how they would have felt about 10 percent growth in that same time frame and you'll start to see why it's all relative and why e-commerce has to learn that less is sometimes more.
Not That Bad
In fact, the U.S. government now says consumer spending fell 3 percent in November from October, the largest decrease on record since the early 1990s. Even when a drag factor from sagging car sales is taken out, transactions were up just a fraction of a percent. Over the same time frame, e-tail sales rose 14 percent.
Now, these types of comparisons are unfair in many ways. E-commerce is still a young and growing industry — it wasn't that long ago that 300 percent growth rates were met with little more than a yawn of recognition.
New Economic Order
But the numbers are one thing and the underlying trends are something else. What they show is that this is the time when as an industry, e-commerce has to learn to do without many of the perks it has enjoyed so far. That means doing without grandiose growth rates. Without the first-love blush of technological novelty. And for the first time in its young life, without a rapidly expanding economy on which to ride.
In other words, everything's changed.
For some companies, change happened too fast, or they reacted too slowly. Others will find a way to make do. Those will be the companies that our children shop at from their wireless headset mini-computers. They will be the ones whose names everyone will remember, not the answers to trivia questions on Jeopardy in 2020.
Back to the Future
By then, the holiday season we're picking our way through now will either be an historical anomaly or the start of a new era. An era when companies plying the e-commerce trade learned to make it on their own merits.
Before then, however, there will be much hand-wringing and breath-holding. There will be anxious moments galore in January as the overall spending numbers start to trickle in. Nail-biting will be de rigeur again just after Groundhog Day in February, as Amazon and others start to report their quarterly earnings.
The Envelope Please
And sometime after that, the dust will settle and we'll start to understand whether e-commerce can find a warm, dry place for itself in the new world, a world of vastly lowered expectations, nervous consumers and a general lack of buzz about technology.
Forecasters are already getting nervous. The November results threw them for a loop. Ten percent is in line with some predictions for the overall season, but given all the efforts made to get shoppers online early, the numbers simply should have been better.
But maybe it's time to throw the comparisons out the window. There is some sport in watching week-to-week and month-to-month growth, or lack of it. It makes good conversation fodder.
A New Era
But it's about time for e-commerce to declare a new era. The measurements of the old one were all about growth and audience. The new ones about the bottom line. The sheer volume numbers left much to be desired after all, and apparently discouraged sound customer service and attention to detail minor details — like actually getting products to a customer's door.
The new paradigm should make those details the main thing. Getting it as right as possible for a smaller number of people is more important now that getting it half-right for twice as many. It's a new day dawning for e-commerce. The yardsticks from yesterday don't tell us quite as much as they once did.
What do you think? Let's talk about it.
---
Note:
The opinions expressed by our columnists are their own and do not necessarily reflect the views of the E-Commerce Times or its management.
---