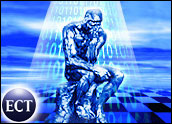 The latest management change at AOL Time Warner's America Online unit has caused concern among shareholders on the eve of the company's first-quarter earnings release.
AOL named Robert Sherman as its new president ofinteractive marketing, replacing Robert Friedman, who was brought in to lead AOL's marketing efforts in August 2001. Friedman was named senior vice president of corporate marketing.
Sherman, who previously was president of cable advertisingsales at Time Warner, now will be in charge of advertisingacross all AOL divisions.
Advertising Trouble
Investors took the appointment, which came less than ayear into Friedman's tenure, as yet another sign of trouble for AOL.
In the fourth quarter, AOL's advertising and commercerevenue fell 7 percent from the year-earlier quarterto $637 million. Analysts expect AOL will report a further decline when it releases first-quarter results aftermarket close Wednesday.
"Based on the recent stock collapse, investors areexpecting a bombshell from the company," Morningstaranalyst George Nichols told the E-Commerce Times.
Lehman Brothers analyst Holly Becker expects thecompany will report a 17.1 percent decline inadvertising and commerce to $1.7 billion for thequarter, along with a 25.8 percent decline in high-marginadvertising to $535 million for the AOL division.
Subscription Slowdown
Subscriptions are also a concern. "Though thedivision's near-term financial challenges liepredominantly in advertising, the subscriptionbusiness is also raising red flags," Becker said.
Becker added that she expects the AOL division to report a 21.4percent boost in subscriber revenue to $1.8 billionfor the quarter. Most of that projected increase, however, can be attributed to subscriber acquisitions in the fourth quarter.
According to Becker, subscriber growth sloweddramatically in the first quarter, dropping almost 50percent from the fourth quarter to 975,000 net additions.
Management Shuffle
The replacement of Friedman with Sherman atop AOL'sadvertising division is just the latest in a string ofmanagement changes.
Jimmy de Castro, a former radioexecutive, wastapped to head AOL Time Warner's interactiveservices unit less than two weeks ago. Sherman willreport to de Castro.
De Castro's appointment came on the heels ofa management change that saw CEO Barry Schuler — who had been running AOL since its merger with TimeWarner in January 2001 — replaced by Bob Pittman,who will become chief operating officer later this year.
Credibility Crunch
Those changes also are causing hand-wringing amonginvestors. "Clearly, the recent change at the top ofthe AOL division suggests that results may be weakerthan the company had thought when it laid out itsprojections in January," Becker said.
For now, analysts are hoping to get some candid guidance fromthe company during the earnings conference call.
"I'm hoping management will be forthcoming in theconference call regarding all the firm's problems. Themanagement team has essentially lost all credibilityon Wall Street," Nichols said.