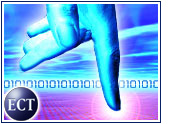 Just two days after shaking up top-level management, AOL Time Warner on Thursday named a former radio executive to head up its interactive services unit, which includes flagship America Online.
James de Castro, who brings experience in the radio industry and the online world, was named president of AOL Interactive Services and will report to chief operating officer Michael Kelly effective next Monday.
"There is no more interesting challenge in the media world," de Castro said in response to the appointment.
AOL said de Castro's priorities will be to "strengthen AOL's industry lead in ease of use and customer convenience, develop content and services that will further enrich the AOL experience for members, and deliver outstanding value to AOL's advertising partners."
Timing Is Everything
De Castro's appointment came after a surprise move to shift CEO Barry Schuler, who had been running all of AOL since the merger that created AOL Time Warner last year, to a new position and hand the reins to Bob Pittman, who will take over as COO of the parent company later this year.
It also came as AOL Time Warner saw its stock price sink to its lowest level since the merger was consummated in January 2001. Shares closed Thursday at US$19.60, marking the first time in the post-merger era that the company's stock traded for less than $20.
Morningstar.com analyst George Nichols told the E-Commerce Times that investors' fears about slower growth in the online unit are justified given that AOL is the "growth star of the company."
However, he added, "the stock is about more than AOL alone," a fact sometimes overlooked as the company has become "the stock investors love to hate" over the past year.
"Time Warner's valuable properties have been all but overlooked by investors," Nichols said. "This firm faces substantial challenges, not the least of which is slowing growth in the company's online-subscriber base. But investors are overlooking the healthy non-online businesses that generate 74 percent of the firm's cash flow."
Consumer Experience
In announcing de Castro's hiring, AOL played up his experience in generating advertising revenue and building customer bases for media companies. His AMFM Radio Group held the distinction of being the country's largest radio company, with 465 stations and 65 million listeners.
"He understands audience segments and knows how to develop programming that appeals to everyone from teens to seniors," Pittman said. "He will accelerate our strategy of reaching out to traditional advertisers and demonstrating the immense power of AOL to deliver unparalleled value to our partners."
Broadband Opportunities
Analysts have fretted lately about AOL's ability to provide added value to the media chain's advertising menu, especially since high-priced deals with consumer companies concluded before the dot-com bubble burst are coming up for renewal.
Kelly cited potential growth opportunities in "online music, online shopping and new high-speed services" that de Castro will be charged with tackling.
Premium services are seen as the best way for AOL to drive consumers to switch from dial-up to broadband access, providing the company with wider profit margins.