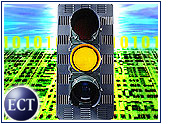 Internet and media giant AOL Time Warner (NYSE: AOL) reported a net loss of US$1.8 billion for the fourth quarter, in line with analyst expectations. Nearly all of the loss was due to investment losses and merger costs. Overall, AOL's earnings increased 14 percent, from $2.4 billion to $2.8 billion, despite the ad slump.
The fourth-quarter loss of $1.8 billion compares with a $1.1 billion loss a year ago. Revenue rose 4 percent in the quarter to $10.6 billion.
The losses did not come as a total surprise. Earlier this month, AOL warned that it would take a significant charge to write off losses, mainly those involving Internet stock investments. At the time, AOL also lowered its earnings forecast.
"The bottom line on 2001 was that we turned in a strong performance, backed by momentum in the fourth quarter in all key strategic areas except advertising," outgoing CEO Jerry Levin said in a conference call. "We made significant progress in integrating the vision of our merger."
AOL stock was trading down 3 percent at $25.90 per share early Wednesday, dipping below its 52-week low of $26 after falling more than a dollar in a market-wide sell-off Tuesday.
E-Commerce Highlighted
AOL said the fourth quarter contained several bright spots for its online and offline network, including e-commerce.
The company said its members spent $7.2 billion online during the fourth quarter, a 72 percent increase from the same period in 2000. For the entire year, AOL members spent $33 billion in e-commerce transactions, 67 percent more than in 2000.
"These gains in online shopping help lay the foundation for additional e-commerce and advertising partnerships between America Online and major consumer brands," the company said.
Help from Harry
Other fourth-quarter highlights for the AOL Time Warner network included box office revenue, which ended the year at $1.8 billion, fueled largely by the Harry Potter and Lord of the Rings movies. Subscription revenue also rose as AOL passed the 33 million member mark.
AOL also highlighted its ability to sell cross-platform advertising and marketing. By year's end, the company said, it had signed more than $1 billion worth of advertising contracts. Burger King, Motorola, DaimlerChrysler, Kraft and Kellogg's are among the companies signing up to advertise across the AOL network, according to the company.
Mixed Outlook
The company said its first-quarter earnings will be flat compared with last year, although revenue will grow 5 percent to 8 percent and earnings will rise by up to 12 percent for the year. Starting in the current quarter, AOL also will begin reporting earnings from AOL Europe, which is expected to boost revenue.
This earnings report was the first one to include a full year of the AOL Time Warner network, created when AOL and Time Warner merged in a $106 billion deal last January. The media empire now includes publishing, movies and television.