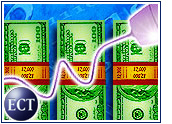 The holiday shopping season is off to a fast start at America Online (NYSE: AOL), the company said Wednesday, raising hopes for a late-year revenue boost for Amazon.com (Nasdaq: AMZN) and other e-tailers as well.
AOL members spent US$2.7 billion online in October, up 80 percent from last year, the No. 1 Internet service provider said. AOL director of e-commerce Mary Humphrey told the E-Commerce Times that she expects the holiday season to be a strong one.
"The numbers look good," Humphrey said.
That news, combined with a positive report on retail from the U.S. Department of Commerce, helped fuel a 30.2 percent rise in shares of Amazon.com (Nasdaq: AMZN) Wednesday. The stock jumped $2.20 to $9.49, and rose another 27 cents to $9.76 in early trading Thursday. Amazon has not traded at the $10 level since August.
Shares of America Online's parent, AOL Time Warner, rose 25 cents on Wednesday to $38.25, though they were down 22 cents to $38.08 in early trading Thursday.
Guaranteed Attraction
Humphrey said AOL expects to attract online shoppers through such incentives as its new money-back guarantee, which she said "really makes people feel safe."
Spotlighting categories like patriotic merchandise and bargain gifts will also attract consumers, Humphrey said. AOL plans to appeal to consumers' sense of patriotism and togetherness following the September 11th terrorist attacks with an "American Holiday" catalog of red, white and blue merchandise.
Big sellers this year are likely to include digital cameras, according to Humphrey, as well as licensed merchandise tied to the movies "Harry Potter and the Sorcerer's Stone" and "The Lord of the Rings." Old standbys will also do well, she predicted.
"The traditional winner every year is apparel, and we've got everybody from JCPenney to Neiman Marcus," she said.
Satisfaction Guaranteed
AOL, which has partnerships with big e-tailers including Target (NYSE: TGT) and Toys "R" Us, said it is making improvements to its service to make it even easier for members to shop online this year.
The company said it is expanding offerings at Shop@AOL, its online mall, to lure more shoppers to the site as the holidays approach.
"Online shopping on AOL has never been stronger heading into this special season, and we will build on this momentum by providing the extra convenience, selection, services, savings and guaranteed satisfaction Americans need to truly bring it home for the holidays," America Online chairman and CEO Barry Schuler said.
Collaborating with sibling Time, Inc., AOL will mail shoppers copies of a catalog featuring brands and products available on its Web site.
Staying Home
A soon-to-be-released AOL/Roper study found that consumers plan to spend more time at home this holiday season, a sign that many may shop in cyberspace instead of at the malls. The study also found that 8 of 10 online shoppers use the Internet to get information about products before they buy, AOL said.
Analysts are predicting a strong online holiday season despite a weak economy and nervousness about world events. Earlier this week, Jupiter Media Metrix said Internet traffic set a record in October, and Nielsen//NetRatings said Thursday that holiday sales are off to a good start.
Wednesday, the Commerce Department said retail sales jumped 7.1 percent in October. Though the advance was led by car sales — which surged as a result of auto companies' zero percent financing deals — business was brisk across the board, the government said.