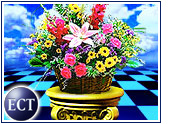 Mothers were not the only ones delighted by the traditional flood of gifts and flowers last Sunday. According to Internet audience measurement service Nielsen//NetRatings, online retailers that targeted Mom as a gift recipient saw a significant spike in traffic.
During the week of May 5th, Web surfers visited sites that offer flowers, gifts and online greeting cards, hoping to point and click their way to an appropriate present for mothers across the country. Even though shopping a mere week before the big holiday may seem like a model of procrastination, it is fairly typical.
"With holidays, the Web is just like a brick-and-mortar store," Dawn Brozek, senior Internet analyst at NetRatings, told the E-Commerce Times. "There's always a rise in shopping around a holiday. What the Web does best is cater to people shopping at the last minute."
Roses and Revenue
The rise in traffic at sites that offered Mom-friendly gifts was about the same as in years past, Brozek said, but that was certainly notable in a turbulent economy.
FTD.com enjoyed a huge jump in traffic as 190,000 users logged in to shop for floral arrangements and non-budding gifts like cookware, chocolates and candle sets. The surge represented a 238 percent increase over the e-commerce site's usual traffic levels.
Another flower-focused site that touts a combination of gifts and arrangements, 1-800-Flowers.com, also saw a heady spike. Although the site's 92 percent rise in traffic fell short of the increase posted by FTD.com, 1-800-Flowers had more visitors during the week, reporting 324,000 gift-minded surfers.
Flower Power
1-800-Flowers said it was ready for the surge. Traditionally, Mother's Day has been the site's busiest holiday, far surpassing Valentine's Day. For a week before the big day, the site becomes "1800Flowers.mom" — it has even trademarked the term. The company also changes its product mix and tweaks its site in anticipation of a flood of orders.
"The volume we get is just huge," 1-800-Flowers spokesperson Ken Young told the E-Commerce Times. Last year, he said, the company booked 150,000 orders in a single day, the Thursday before Mother's Day. Although the company has not tallied this year's figures yet, Young said he suspects the numbers will be similar.
"I think that many orders in one day may be unmatched in e-commerce," he said. "I haven't seen anyone else appear to even come close to that number."
Big Promotion
Brozek remarked that FTD.com and 1-800-Flowers both know how to work a holiday mojo on customers. "They modify their content well for holiday items," she said. "They're very good at effectively using their Web sites as marketing vehicles."
Companies selling cut flowers and truffles were not the only ones to feel the surge. Sites like Amazon.com also made sure consumers knew that their offerings would look lovely in Mother's Day gift wrap.
"Every major site I was looking at was promoting their site for Mother's Day presents," Brozek said.
Gift Overkill?
As gift sites ready themselves for Father's Day, Independence Day and the multitude of other holidays peppering the calendar, some observers may wonder whether constantly pushing gifts might eventually induce consumers to eschew the whole gift-giving routine.
Brozek admitted there is some cynicism, but she added that it tends to crop up only on minor holidays. Just as there will always be mothers, there will probably always be gifts for them, she noted — and online retailers should benefit from that truth far into the future.
"I don't see Mother's Day gift-buying going away," Brozek said, "or the use of the Web to do it. Online retailers make it easier and more convenient to fulfill any gift expectations a mother may have."