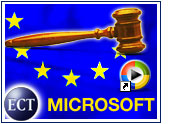 Microsoft vowed Tuesday to appeal the recent European Union antitrust ruling that orders the company to modify its business practices, make product changes and pay a hefty fine. On Monday, the company delivered an application to annul the EU's decision to the European Court of Justice.
After a five-year investigation, the EU determined that Microsoft was guilty of antitrust abuses. In a March 24th ruling, the commission in charge of the investigation mandated that Microsoft strip Media Player from its Windows operating system and share information with competitors.
It was widely expected that Microsoft would appeal the ruling. On Tuesday, Microsoft lawyer Horacio Gutierrez said that the commission's decision undermines the innovation efforts of successful companies, and that Microsoft will appeal to benefit itself as well as other companies and consumers.
As Microsoft spokesperson Jim Desler told the E-Commerce Times: "We believe we have a strong case to present to the court. Our appeal makes solid, substantive points based on legal precedent as to why the court should reject the European Commission's decision."
Friend in Need?
As the Microsoft appeal goes forward, it will be interesting to note which companies emerge as allies to the Redmond, Washington-based giant, said Aberdeen Group chief research officer Peter Kastner.
In an interview with the E-Commerce Times, Kastner noted that Microsoft has many "silent friends" who might become vocal as the case goes forward.
"How Microsoft does business has been determined as legal in the U.S.," Kastner said. "So, for the EU to set a totally different standard for business conduct threatens not only Microsoft, but every other global company as well."
Desler agreed the ruling could have implications for other companies. "The impact of the commission's decision goes beyond Microsoft and toward other companies," he said. "It should not be understated."
One relationship that Microsoft will have to address in the near future is with Sun Microsystems. In April, Microsoft settled a dispute with Sun and paid the company nearly US$2billion to license its technology.
Because Sun is the lead complainant in the EU's antitrust case, there has been speculation that the deal will lessen Microsoft's strength in its appeal.
Not So Fine
Part of Microsoft's vow to appeal may stem from its indignation over the EU's proposed fine of $612 million.
"They could have paid," Kastner said. "Doing an appeal was not their only option. But paying would have meant they couldn't address the issues of law and commerce that they're seeking to clarify now."
Microsoft lawyer Gutierrez said that, when the fine was announced, it became clear that the EU had gone too far. He pointed out that the fine appears to be twice what it should have been under the European Commission's own guidelines.
In a March statement, Gutierrez noted, "We believe it's unprecedented and inappropriate for the Commission to impose a fine on a company's U.S. operations when those operations are already regulated by the U.S. government."
And Yankee Group analyst Laura DiDio told the E-Commerce Times that although Microsoft certainly has sufficient funds to pay the fine, it likely will resist doing so for as long as possible.
"It's quite a chunk of change," she said. "They won't pay it one minute before it's due."
No Surprises Yet
To analysts and observers following the European Commission's investigation, the ruling against Microsoft was about what they expected. This new vow by the company to fight the ruling also comes as no surprise.
What will be worth watching is how the EU handles the fight from this point. To many, it seems that both sides are digging in for an extended battle. Gutierrez and EU Competition Commissioner Mario Monti already are swapping jabs in the press about the case.
Gutierrez has said the commission's decision alters incentives for research and development that are important to global economic growth. Monti, meanwhile, has emphasized the EU's confidence that the ruling will stand and that its mandates will be upheld.
"I think Microsoft has about as much chance of success as it did before," DiDio said. "It's a long shot. But they'll definitely fight every step of the way."