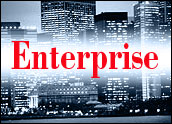 EMC today announced several new technologies and services designed to help customers make compliance with regulations a seamless part of IT operations. The new EMC technologies for e-mail and content archiving, new platform functionality for compliance-related data management, and services for data classification "will help customers extract the maximum value from their information at the lowest total cost while meeting regulatory demands and achieving compliance," the company said in a statement to the press today.
Corporate governance, legal requirements and government regulations are forcing IT organizations to evaluate their information-management strategies. Organizations today must create and implement policies for data integrity, authentication, legal discovery and retrieval. EMC has been specifically targeting these needs over the past several months with many new announcements about tiered storage platforms, software and services, all of which are designed to address regulatory compliance by helping customers manage information in the information lifecycle, from content creation, use and retention to final disposition.
"EMC's proven solutions and services for compliance create an actionable IT agenda that allows customers to manage compliance-related data such as e-mail and bank statements the same way they manage transactional data," said Peter Gerr, senior analyst at Enterprise Strategy Group.
EMC's new technologies and services include:
EMC's Content Archiving and Retrieval Solutions (CARS) to automate regulatory compliance by centralizing online document and records management with a system to capture, store and retrieve content in any format from any source. EMC CARS with Documentum is designed to help customers manage the content lifecycle for compliance. EMC CARS with Mobius is designed to help customers transform and archive bills, statements, check images and other content, including mainframe-generated content, in compliance with regulations.
EMC's E-Mail Archiving technology helps optimize the placement of e-mail, helping organizations address cost and compliance objectives — from faster upgrades and better user experiences to stringent regulations. The EMC E-Mail Archiving technology integrates with Legato's EmailXtender e-mail archiving application to archive e-mail content from Microsoft Exchange and Lotus Notes.
EMC's Centera content-addressed storage technology offers retention classes plus audit-compliance functionality with its latest operating environment release, CentraStar 2.3. These technologies are designed to deliver better performance and manageability functions over earlier versions of the company's software.
"As compliance requirements proliferate, organizations demand flexible solutions to help them comply with current requirements and adapt to new and evolving ones," said David Goulden, EMC's executive vice president of customer operations. "EMC can help these organizations comply with these regulations because it has extensive experience with compliance issues and the broadest and deepest set of offerings and partnerships in the industry."