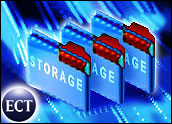 At its conference for customers, channel partners and user group members today, Hewlett-Packard announced two new products in its ongoing "adaptive enterprise" strategy.
Specifically, the company unveiled an archive and retrieval product as well as a dual-processor module that will benefit its server customers. In addition, HP will provide services related to storage, including implementation assistance and design expertise.
The products are part of HP's sharpening focus on creating technology systems that dovetail more effectively with business needs, the company noted. As Thomas Goepel, HP's worldwide portfolio manager for storage services, told the E-Commerce Times: "We announced adaptive enterprise a year ago as a strategy to allow companies to change more quickly in their environments. The announcement today was about showing what we've done over the last year and what we're going to be doing from this point on."
Serve It Up
Part of HP's latest announcement centered around its standards-based server portfolio, including changes in system design that the company says will increase the workload capacity of Integrity servers.
That boost is achieved with a dual-processor module, called mx2, that allows two 64-bit Itanium chipsets to be plugged in to existing systems on a single module to achieve 128-bit processing power.
HP noted that this method allows for a 35 percent lower acquisition cost in comparison with similar IBM systems.
The mx2 module announcement was made in conjunction with the unveiling of new Integrity benchmarks, services and partners.
Store House
HP also announced immediate availability of an all-in-one archive and retrieval product that stores, indexes and rapidly retrieves reference information.
Called the HP StorageWorks Reference Information Storage System (RISS), the product combines hardware and software to simplify long-term data management. HP claims RISS also can reduce costs and address growing regulatory and retention requirements.
The storage-grid architecture on which RISS is built divides storage, indexing, search and retrieval tasks across a set of computing nodes, which HP calls storage "smart cells."
Each cell is composed of a high-density computing device and onboard storage. The smart cells are completely self-contained within a dedicated processor, search engine, database, index and management layer.
RISS is likely to compete with products like EMC's Centrea device and Network Appliance's SnapLock products. However, although that comparison to EMC is natural, HP strategic marketing manager Calvin Zito told the E-Commerce Times that RISS is significantly different because it is an all-in-one appliance.
"With Centrea, you have a dumb storage box, but you still have to add software that does archiving on top of that and a database to track the location of the information," Zito said. "For some customers, that's an integration nightmare."
Step Forward
RISS is included in the adaptive enterprise strategy because it includes standardized, modular and centrally managed storage components.
Yankee Group analyst Stephanie Balaouras told the E-Commerce Times that RISS fits well with HP's information lifecycle management platform, adding that the platform will address issues of regulatory compliance that companies need to watch.
"They have a breadth to their product line now," she said. "It provides high performance, and there are even some options that other vendors don't have, like tape systems."
The storage platform also should put HP in a good position because of its adaptive enterprise angle, Balaouras said. "Adaptive enterprise is being able to adapt to whatever needs to be done, and with flexibility. RISS does that by being a complete appliance."
Utility Focus
In the past, HP has been criticized for vagueness in its definition of "adaptive enterprise," but analysts noted that the company's strategies in this arena are becoming clearer.
Like IBM, HP is keen on utility computing, which allows companies to pay only for those resources they use. The storage and servers introduced today provide a glimpse into HP's direction in the space.
As Balaouras said, "HP is demonstrating that adaptive enterprise means being able to provide services, software and hardware — really, covering the gamut of whatever business needs."