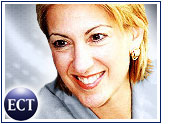 Hewlett-Packard said profits rose as sales improved in many of its business segments during its first fiscal quarter of 2004. Revenue totaled US$19.5 billion, up 9 percent from the same time frame in 2003. HP again turned a profit in all of its business units, marking just the second time it has done so since its merger with Compaq.
CEO Carly Fiorina said the number two computer maker turned in a "solid performance."
Most analysts pointed to the company's upbeat outlook as the best news in the report. HP said it may exceed revenue expectations in the second quarter, citing strong sales of non-computer items, such as digital cameras and other imaging products. Specifically, the company forecast sales could reach $19.6 billion.
Even so, Fiorina said HP still expects a more measured, "steady recovery in IT spending, not an explosive one."
Hearing Echoes
HP's upbeat outlook came as EMC CEO Joseph Tucci said his company's business also is seeing a rising tide of sales, with more large-scale sales being closed. Tucci backed earlier guidance suggesting EMC could growrevenue as much as 25 percent in 2004, in part because of its recent acquisition of storage software firms, but also because of overall improvement in the economic climate.
"Companies were very reluctant to go out and call the recovery earlier on, but the evidence now is strong enough to give CEOs the comfort they won't jinx it by talking about it," Morningstar.com stock analyst Todd Bernier told the E-Commerce Times. "Even now, you see companies looking to mute their optimism so that expectations don't become too high."
Merger Payoff
For her part, HP's Fiorina said some business units helped drive the company's success, including personal computer systems, which saw revenue increase 20 percent largely on the strength of notebook computers, and enterprise systems.
The enterprise systems division enjoyed the biggest turnaround, turning a steep loss a year ago into a $108 million operating profit. That unit was one of several that underwent a major restructuring in the past year.
HP has silenced many of the loudest critics of its $19 billion purchase of Compaq by reporting results that seem to show the benefits of the merger. Even units that once were losing money are now contributing to HP's positive bottom line.
Different Drummers
HP also is beginning to distinguish itself from Dell by moving into areas where it can leverage its existing strengths, Gartner principal analyst George Shiffler told the E-Commerce Times.
In fact, data from Gartner and IDC point to Dell having picked up additional market share in recent quarters. However, HP's flagship imaging and printing business reported profits of $968 million, showing the company has been able to maintain profit margins in that core sector. By contrast, HP's PC unit was narrowly profitable.
"HP might have a hard time head-to-head with Dell if it was just fighting on price," Shiffler said. "But they've recognized that their printing background is a leg up when it comes to getting into the consumer side."
Although Dell has made it clear it plans to be a player in the home-entertainment side of the computing and electronics business, HP may be slightly ahead with its Apple-iPod partnership and its history of making digital photography-friendly products, Shiffler added.