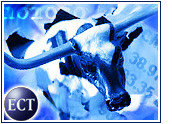 Further solidifying its credentials as one of the biggest tech-sector success stories in recent years, Dell on Thursday posted record sales, product shipments and profits for its fourth quarter.
The company said revenue in the quarter reached US$11.5 billion, an 18 percent increase from last year, pushing sales for the entire year to $41.4 billion, also a record for the company. Earnings in the quarter grew 24 percent to $749 million.
While Dell has churned out a string of strong reports as the tech chill has begun to thaw, growth in some of its high-end, enterprise-focused product lines fueled even greater optimism at the Round Rock, Texas-based company and elsewhere in the tech sector.
For instance, server shipments increased 40 percent, helping Dell win two percentage points' worth of market share from competitors, according to IDC data. Storage revenue rose 47 percent, and overseas growth was also strong, with a 30 percent jump in both Europe and Asia.
Max Headroom
While Dell has built its reputation on an airtight business model thatcuts costs and maximizes profits, the company's executives said high-end, higher-margin growth is helping separate Dell from the rest of the techsector, which is relying on sharp increases in lower-margin notebook and desktop sales to rebound.
"Dell met its targets by pursuing profitable growth," COO Kevin Rollins said. "Doing that requires a high-quality, low-cost business model and great discipline. We have both."
Dell said it expects to remain ahead of the rest of the industry as 2004 unfolds. The company predicted first-quarter shipments will rise 20 percent or more and forecast a first-quarter revenue figure of about $11.2 billion.
Rising Ocean
Gartner principal analyst George Shiffler told the E-Commerce Times that Dell is enjoying the overall improvement in the personal computer market more than any of its competitors because of its ability to deliver what consumers want.
"The drivers of the rising market include lower entry prices and less-expensive machines that do more," Shiffler said. "Dell's efforts to trim costs have put it in a position to produce in those categories."
Dell also has made clear its intention to be ready for what analysts say is the next wave of demand in personal computing — the migration of PCs from home offices and bedrooms to the family living room.
New Frontiers
Dell also said it will take steps to ensure additional growth by focusing on boosting sales in Asia, where sales growth of 60 percent last year helped make China the company's fourth-largest market. Dell executives said they are working to ensure Dell's China growth outstrips the overall market expansion and will slowly work to grab new market share there.
Also on Thursday, Dell unveiled its Inspiron XPS, a notebook computer aimed at mobile gaming enthusiasts. Analysts said the computer, which will sell for just under $3,000, could help Dell compete against companies that specialize in gaming machines, a largely untapped market for the PC maker.
Additionally, some analysts say Dell's impressive growth and steady profitability may make it a greater competitive threat to longtime enterprise computing workhorses HP and IBM.
IDC analyst Loren Loverde said observers will be paying close attention to HP's earnings when they are released next week, with an eye toward evaluating past results to see if any significant chunks of market share changed hands.
"Dell has been able to almost put its PCs and notebooks performance on autopilot and turn its attention toward trying to ratchet things up in the upper end of the enterprise," Loverde told the E-Commerce Times. "That's turf that HP and IBM aren't going to give up without a fierce fight."