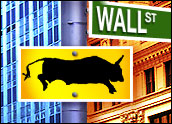 Less than two years after posting a billion-dollar quarterly loss, data storage kingpin EMC has raced past earnings targets, posting a healthy fourth-quarter profit as demand for its storage products rose.
EMC booked earnings of US$220 million despite taking some charges for its late-2003 acquisition of two storage software firms. Revenue reached $1.86 billion, up from $1.49 billion a year ago. For the full year, EMC had sales of $6.2 billion, up 15 percent over 2002.
Overseas growth powered the turnaround, with international sales rising 33 percent year-over-year and accounting for more than 40 percent of all of EMC's sales in the fourth quarter.
Execution in Style
CEO Joe Tucci credited "the strength of our broadened product portfolio, combined with outstanding execution and an improving global economy" for the "solid" conclusion to 2003.
EMC also put a positive spin on its expectations for 2004, saying revenue for the full year could rise another 25 percent to more than $7.8 billion, boosted largely by added revenue from its three 2003 acquisitions.
The results indicate a dramatic turnaround from 2001 and early 2002, when EMC was struggling to right itself after growing by leaps and bounds during the tech expansion era. In October 2001, the Hopkinton, Massachusetts-based company posted a loss of nearly $1 billion and vowed to slash several thousand jobs worldwide to bring costs in line with lower revenues.
Back in the Saddle
In addition to restructuring, EMC more recently turned its attention to expanding by buying firms that provide services and software meant to complement its storage systems.
In 2003 alone, the company doled out more than $3.5 billion on acquisitions, including $1.3 billion for storage management software firm Legato Systems, $1.7 billion for content management specialist Documentum and $635 million for virtual-machine technology firm VMware.
Those moves all fit EMC's strategy of offering more end-to-end services to storage customers, rather than relying on high-end storage units to generate all of its revenue. This strategy has yet to produce tangible results but may already be bearing fruit by restoring to EMC the mantle of clear market leadership, John McArthur, a storage industry analyst with IDC, said.
"EMC was being hit by the downturn, but also seeing its storage market share eroded by competition," McArthur told the E-Commerce Times. "People were turning to the IBMs of the world because they could presumably do a better job of integrating storage into the overall enterprise network landscape."
Back in Black
By promising to knit together the various software offerings of its acquisitions, EMC has made it clear to potential customers that it intends to remain the market leader and to remain an innovation leader in storage, McArthur added.
However, Gartner analyst Robert Passmore said that despite the optimism surrounding EMC's software buys, the company still has a lot of work to do to make the various pieces fit together into a true value-added puzzle.
"You might see even more acquisitions in order to make it all knit together," Passmore told the E-Commerce Times. The acquisition of VMware in particular seemed less of a logical fit than the other two buys, he noted, and may indicate a further strategic thrust.
"If nothing else, they picked up a company with the best virtual machine technology right now," Passmore said. "That's rarely a bad move."
Strong Balance Sheet
"Our information lifecycle management strategy is being well received by both long-standing and new customers," Tucci said in a conference call in reference to the acquisitions. "EMC strengthened its market position and clearly gained share in 2003."
Despite the recent buying spree, much of which was financed with stock, EMC ended 2003 with a stronger balance sheet than ever before, said CFO Bill Teuber. Specifically, the company ended the year with $6.9 billion in cash and investments on its books.
Although Tucci said technology spending in general will rise in 2004, he did not divulge whether or not EMC will ramp up hiring to meet higher demand.
"I absolutely believe 2004 will be a better year for IT," he said.