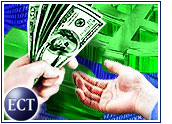 In an effort to build on momentum generated by a robust earnings report, Cisco Systems has reached an agreement to buy Latitude Communications, a software firm that makes Web conferencing products.
Cisco said it will pay US$3.95 for each share of Latitude stock, making the deal worth an estimated $80 million. The takeover is expected to close by the end of January.
Latitude was founded in 1993 and went public in 1999, when the tech boom was still going strong. Its stock climbed as high as $32 per share before plunging to less than a dollar by the end of last year. The company has 183 employees, some of whom will link up with Cisco's voice-over-Internet unit.
Cisco said it will fold Santa Clara, California-based Latitude's conference technology into its portfolio of Internet Protocol offerings, thereby expanding its menu of telephone-over-Internet products. Until now, Latitude has sold its products under the MeetingPlace brand name.
Well Acquainted
Cisco Voice Technology Group vice president Don Proctor said the deal makes "perfect sense" because Cisco believes the enterprise conference market "is in transition," with more customers choosing network-based products that enable them to control issues like security while also reducing costs.
"This acquisition will enable Cisco to accelerate delivery of intelligent multimedia conferencing solutions," Proctor said.
He noted that Latitude's MeetingPlace software already works with other collaborative software products, including IBM's Lotus Notes and Microsoft Outlook, as well as instant messaging products like Lotus Sametime. In addition, the product is already integrated with Cisco's own CallManager product, which lets users schedule meetings over Cisco IP telephones, of which about 2.3 million already have been sold.
Double Feature
Gartner analyst Neil Rickard said Cisco sees enormous market potential for Internet-based calling as a cost-savings option for enterprises but faces plenty of competition from other vendors, many of which are trying to compete with Cisco by offering lower-cost alternaives.
"Cisco's best competitive strategy has always been to offer better products, better solutions, more solutions from the same technology," Rickard told the E-Commerce Times. "The more features they can roll up into a single solution, the better the value, especially for those enterprise customers who feel comfortable buying from Cisco."
Cisco was clearly buoyed by its most recent earnings report, when it beat almost all estimates. The company did, however, downplay the extent to which the boost will continue into next year.
Buy or Be Bought
In general, acquisitions by tech companies have come at a faster pace recently, a possible sign that companies believe better days are ahead. CRM software maker Novell plunked down $210 million to buy Linux firm SuSE earlier this month, and EMC bought Documentum for $1.7 billion in stock last month.
Meanwhile, Oracle executives have made it clear they will find alternative buyout targets if they cannot close their long-suffering hostile bid for PeopleSoft, and rumors have been flying fast and furious that Microsoft has made takoever overtures to search engine leader Google.