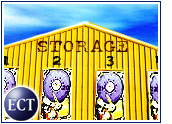 Storage vendor Brocade Systems has unveiled a new platform, called the SilkWorm Fabric AP, that is designed to run storage-management applications, including volume-management, data-migration and data-replication programs. In addition, the company announced it will deliver a set of multiprotocol routing services to run on the new platform.
The goal of the new offerings, which focus on what the company is calling intelligent-switching technology, is to let companies consolidate multiple storage area networks (SANs) into a larger, connected whole across networks and geographical distances.
The company said several of its partners, including HP, EMC and Veritas, already have decided to use the platform.
For his part, Gary Pilafas, a senior storage-systems architect at United Airlines Loyalty Services, praised the ease of migration to Brocade's systems. "These new applications promise to significantly improve efficiency in enterprise storage environments and lower management costs," he added.
Storage Showcase
Brocade will be showcasing its products at Storage Networking World this week. During that time, the company will demonstrate three storage-management applications that run on the new platform.
The first such application is geared toward data replication and recovery. It can be used in heterogeneous storage environments and across geographically remote locations.
The second, a virtual tape library from Alacritus, emulates tape backup but is actually a disk-based backup service. The approach — using hard disks instead of tape drives — allows administrators to perform backups in far less time because hard disks have much higher data-transfer rates.
But the system still relies on familiar tape-based policies and interfaces, which will help administrators quickly come up to speed on the new system. In this way, the product can help eliminate the need for retraining employees. According to Brocade, implementation of this software can improve backup performance and reliability, boost data availability, and reduce backup failures and restore time.
Uninterrupted Access
Lastly, a data-migration tool from Incipient will, according to Brocade, help storage administrators move data between separate, heterogeneous storage systems — even as applications access the data that is being moved.
Like the virtual tape library program, this application is designed to reduce backup failures and improve restore time and data availability. In addition, Brocade said, it is designed to improve enterprise storage provisioning capabilities and to centralize many storage management functions.
"This is an important milestone in helping to bring valuable new fabric-based storage management applications to market," said Tom Buiocchi, Brocade's vice president of marketing.
"The fabric applications delivered by our OEM and developer partners will significantly reduce the operational cost and complexity of managing storage environments."