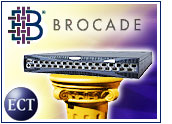 When Brocade was founded in 1995, it had lofty goals and a simple premise. The company believed storage should be networked, and it envisioned allowing CIOs to cut storage costs and increase efficiency.
Since then, the company has evolved to provide networking foundations for storage area networks (SANs) for vendors in the systems, applications and storage industries. It also was the first to develop fibre-channel switches, also known as fibre switches, which are specifically designed for SANs.
In terms of how Brocade's product fits into the overall market, the hardware that connects workstations and servers to storage devices in a SAN is referred to as a "fabric." The SAN fabric lets any server connect to any storage device through the kind of switches provided by Brocade.
Although Brocade, like many other companies in recent years, has had bad times as well as good, it is still a major player in the networked storage market. With competitors like Cisco, can Brocade stay on top of its game?
Switch Hitter
Brocade's strategy could insulate it somewhat from market fluctuations. Rather than building hardware and marketing it directly, the company has partnered with manufacturers like Hewlett-Packard, IBM, Dell, NEC, Unisys and Hitachi. As those giants work to conquer the small to mid-size business market, Brocade is benefiting from their efforts without having to reconfigure its switches or even introduce any new products.
Also, since Brocade is part of a bundle, the company basically can ride the coattails of its OEM partners when they push into a new market.
Junior Rollercoaster
As a result, although some companies experienced stomach-dropping jolts as the economy dipped in 2002, Brocade had only minor slides downhill. Even so, those times are not fond memories.
"I could call it our dark year," Tom Buiocchi, Brocade's vice president of marketing, told the E-Commerce Times. "But I'd be laughing as I said it. In 2002, things did plateau, but we saw sales flatten out for the industry as a whole. Basically, there was a pause after the boom years, but it wasn't a major slide. We just stopped having 100 percent growth, that's all."
Still, the company did endure a few moments that had analysts holding their breath. In November 2002, Brocade's stock fell 27 percent after the company admitted it would have to lay off some employees. At the same time, its COO left.
Some analysts called the plunge a "meltdown," but it did not last long. Within six months, Merrill Lynch put a buy rating on the company's stock.
Not Lonely at the Top
Having solid OEM relationships and watching the economy begin to ascend again are two factors that keep Brocade employees feeling optimistic. An even larger comfort is that the company has huge market share in a field that is of increasing interest to potential competitors.
Gartner analyst James Opfer told the E-Commerce Times that Brocade commands 58.5 percent of the market — nearly double the share held by its closest rival, McDATA.
"They're very strongly positioned in terms of their installed base," Opfer said. "They face some competition because it's an attractive market that's been growing." Emerging combatants include McDATA, Key Logic and Cisco, he added.
"In terms of Brocade's firepower, it's getting difficult for them to lead in all areas, but in some areas they will always perform well," he said.
Opfer also noted that the company is doing well with its newest product, the SilkWorm 12000 Core Fabric Switch, which represents an improvement in scalability, manageability and security.
"They brought this out somewhat at the expense of the other switches," hesaid. "But the 12000 is a more suitable and capable product for them; it's a step forward. It gives them a better-rounded product line."
Product Changes
Indeed, as the networked storage industry changes, Brocade is focusing on tweaking its products to accommodate SAN-savvy IT managers.
"More people are getting SANs," Buiocchi said. "But you're also seeing a lot of people who have had them for the last couple of years and now want to go to a different level. They're asking how to manage them better."
To assist such customers, the company has begun to develop software products and protocols that allow customers to manage storage automatically.
In January, it also purchased Rhapsody Networks, a company that had built a more intelligent version of a SAN switch. With the acquisition, Brocade was able to develop an intelligent fabric application platform, just in time to compete with similar technology from McDATA.
Brocade also is devoting a great deal of attention to enhancing certain features, such as security. It has beefed up the security mechanism of its switches to prevent unauthorized entry or configuration errors.
Future So Bright?
It is not surprising that Brocade has had a few downward slides; in fact, given the timing of the company's formation, it is somewhat surprising that it has not had more.
"Brocade was founded in the boom period," Shirley Stacy of Brocade Investor Relations told the E-Commerce Times. "When we went public in 1999, the stock went berserk because the market associated with storage was huge. From there, we've continued to perform well, because when the IT budgets started to get cut, dollars were still being put toward SANs."
Buiocchi noted that the market now has begun to segment significantly, with interest from small and mid-size businesses, and that the reach Brocade has through its OEM partners can only mean good times are ahead.
This is not to say the company does not face challenges, however. Opfer is watching Brocade's competitors in the increasingly heated market, although he is not worried for the company's future yet.
"It's impossible when a company has that large a share of a market not to be concerned about its sustainability," he said. "But Brocade still has the possibility of maintaining that lead for a long time to come."