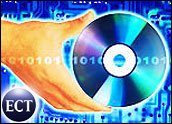 And so we come to the end of an era. When EMC announced on July 8th that it would buy software firm Legato Systems for $1.3 billion, it was the most potent sign to date that hardware innovation and systems engineering no longer define the warp and woof of corporate computing. Software has taken over.
From the earliest days of magnetic disk technology, clever hardware defined the nature of computing. IBM's first disk technology, RAMAC, unveiled in 1953, was a wonder of engineering, using principles of airflow gleaned from aviation to read the surface of a spinning disk. RAMAC introduced random access, forever changing business computing. Software of the day could barely keep up. While RAMAC remembered an unprecedented 5 million characters of data, "During the same period, software technology had advanced hardly at all," write Martin Campbell-Kelly and William Aspray in "Computer: A History of the Information Machine."
This month's EMC-Legato deal shows that software has stolen a march on hardware in defining the nature of enterprise computing. That raises a challenge for the No. 1 independent storage software vendor — EMC's arch-nemesis, Veritas Software. With a formidable position in the sector and an $11 billion market cap, it's Veritas' game to lose.
Getting Complicated
Of course, the storage story is still partly about large disk drives and reliable computing hardware, but increasingly, it's more a matter of smart software for managing the burgeoning complexity of all those bits. With storage categorized by relevance — "primary," or production, data versus "secondary," or archival, data, for example — and with an increasing number of devices being added to storage networks, there is a pressing management challenge in the Glass House.
Software is the key to some of the most-hyped efforts to build out storage networks in an incremental, easily manageable fashion. For example, smart software makes possible EMC's so-called "on demand" storage offering, in which the company remotely unlocks disk capacity in its system as the customer upgrades. Software also is at the heart of virtualization, by which any byte on the network can be made to appear local to a server even if it is on another network in another office across the world. And software is making possible remote mirroring of data, which allows information to be copied to offices around the world for disaster recovery, archiving and other purposes.
Numbers Breakdown
Whether or not the hype is valid, vendors understand that software's alleged advantages are the main differentiator of their wares. For example, EMC executives claim their StorageScope tool for analyzing networks can increase utilization of storage systems to 90 percent or better. That would be impressive, given that as much as 70 percent of disk capacity goes unutilized in companies.
Now, with the purchase of Legato, EMC has gained a strong position in the backup software market to complement its commanding lead in control software.
Veritas is not far behind. The company is No. 1 in backup and recovery software — Legato's specialty — with about 43 percent market share, according to Bob Passmore at Gartner. Meanwhile, EMC is the heavyweight in overall storage management software: When taking into account all the licenses running on its hardware, it has about 55 percent of the market. However, Veritas, which does not sell hardware, leaps to first place with one-third of the market when factoring out software that ships with hardware.
What Now?
So, where should Veritas go from here? Earnings this fiscal year are expected to rise a mere 8 percent over last year, and the company is no pick for a raging growth stock with its share price of about $26, near its 52-week high. Still, it has been gently surpassing analysts' profit estimates for several quarters, so it's fair to ask how the software firm should leverage its sizeable market share.
As expressed in another recent article, some believe storage management is going the way of systems management, if only because EMC and others cannot ignore the deep pockets of adversaries such as IBM's Tivoli division, a leading vendor of enterprise systems management software.
Not Yet Twilight
However, I think it's too early to declare the twilight of storage as a separate domain. Years ago, it was predicted that the storage market soon would belong to networking titans like Cisco Systems because the fibre-channel technology used to join disk drives is very similar to the Gigabit Ethernet adapters at the heart of enterprise networking. That didn't happen, basically because the people who manage disk drives and worry about data integrity are a different breed from the types who buy routers. Instead, the industry gave birth to a new, different kind of networker, Brocade.
So storage remains its own thing, and the question is what it will take to grow if software is now the key. With EMC captive to its installed base of hardware, and other vendors thinking of storage as a systems management business, Veritas is probably the best company to define a vision for storage technology that is unique from every other corner of enterprise computing. It's too soon to tell what that will look like, but it will be exciting to watch, and perhaps rewarding for Veritas shareholders.
---
Note:
The opinions expressed by our columnists are their own and do not necessarily reflect the views of the E-Commerce Times or its management.
---