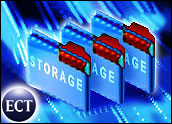 It would be nice if headlines about networked storage were picturesque, such as, perhaps, 'A SAN Grows in Brooklyn.' Unfortunately, storage area networks, hailed as one of the most transformative corporate information technologies in years, are not like young saplings that will, with subtle nurturing, grow into mighty oaks. Data storage networking requires a lot of hard work.
As a CIO or IT manager tasked with planning and implementing a storage area network, you can start out simply — but to build a reliable SAN and integrate it properly with the workflow of an entire enterprise network, be prepared to do a lot of planning, and a lot of purchasing of attendant tools. What are the highest data storage hurdles — and how can an enterprise leap them and hit the ground running?
No SAN Is an Island
The first hurdle is to plan for a comprehensive SAN, rather than developing it bit by bit, a mistake that Enterprise Storage Group analyst Steve Kenniston says could lead to "islands of storage networks." Such a misstep would be similar to one made by companies in the early 1990s when they tried to implement data warehousing. In that case, the goal was to create a large non-production database that would let a company's employees tap into information stored in a single central location. Instead, each department of a company built a mini data warehouse, known as a data mart, balkanizing the information.
"The danger is ending up with what I'd call a direct-attached SAN," Kenniston said, suggesting that tying four or five terabytes of data directly to a couple of servers does not constitute a network. "What you want to do is to plan long term for a single network, rather than isolated storage systems that will later have to be joined together." He told the E-Commerce Times that the stakes are high, because choosing the wrong path and creating multiple islands of data can make it hard to secure sensitive information, such as customer data for an e-commerce site.
Fortunately, some third-party tools exist to help IT managers accomplish this sort of high-level planning. Enterprise management firm Computer Associates recently purchased startup Netreon, which produces a SAN design tool, formerly called SANExec Designer and now rechristened BrightStor SAN Designer. Another product, Netliant's NetAccelerate Suite, is intended not for end users, but for VARs that must put together storage network bids using components from a number of vendors. Netliant claims its product simplifies the design and estimate process for a complex constellation of parts.
No SAN Lasts Forever
In fact, the ecosystem of storage devices and networking components is the second largest hurdle for CIOs trying to build SANs. Interoperability problems loom large when an enterprise starts to mix and match equipment from various vendors. Analysts interviewed for this story seemed to agree that rather than using best-of-breed components — shopping around for a storage switch here, a disk array there — customers should give their business to a single vendor and task that vendor with tying it all together.
"You want to go with a single vendor, but you don't want to give them a lock-in," said Bob Passmore, vice president of Gartner's server hardware and storage division. His reasoning behind this seemingly contradictory caveat is that while hardware for storage networking is fairly stable, the software component is immature and is likely to change quite a bit in the next several years.
"Most people think networking is the hard part of this," Passmore told the E-Commerce Times. "Actually, it's the software that's the issue. You'd like to be able to automate that, but we're not there yet. You're best off picking one software system now and then expect to rip that out in a few years. Buy your software tactically." He pointed out that the lifetime of most storage hardware is about three years, so buyers can expect to overhaul their data network in a relatively short time anyway.
It's a People Area Network
It helps to be philosophical in this way, but storage networking cannot be successful without a wholesale redeployment of personnel as well. "You'll need a central administration group for storage," Passmore said. "This can't be managed part-time."
In fact, some IT professionals likely will have to be pulled off unrelated tasks as critical procedures, such as daily backups, are reconsidered in the context of networking. This will be perhaps the sharpest test of storage networking, because it goes to the heart of the cost of SANs, which ends up being mostly a labor expense.
System administrators who are nominated to the task of building the SAN may find themselves wandering on untested ground with immature software, as mentioned above. As Merrill Lynch storage analyst John Roy wrote in a note on the market back in January, "Many of the jobs of the systems administrator have been automated (like downloading patches and applications), now it will be the storage administrator's turn."
Is your company ready for the brave new world of networked storage?