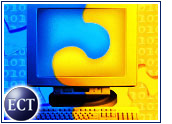 Here's an ad I'd like to see in the online personals. "Established $118 billion networker seeks respected microcomputer company for technology integration, product fusion, customer rollup. Must have own intellectual property, stable income, smart staff and a desire to conquer the enterprise networking market. Startups need not apply."
Once upon a time, every twist and turn in the Internet landscape brought fresh speculation as to which promising young companies Cisco Systems or Lucent Technologies would sweep off their feet in the relentless bid to conquer e-commerce. It looks like it's time to try a more stable relationship. The latest survey of global mergers and acquisitions by KPMG shows that in the first six months of 2003, M&A activity worldwide has fallen by almost 30 percent compared with the year-ago period. Not surprising, given that the steady flow of flashy, young, privately backed tech companies has dried up.
Perhaps we've entered the age of marriage between equals. Take a company like Cisco, which has been trying with little success to break into newer markets, such as the field of storage networking dominated by Brocade Communications. What if instead of trying to be something it's not, namely an impudent upstart, Cisco were to change the rules of the game by joining with another powerful, established vendor? A vet like Sun Microsystems, for example.
Bye-Bye Business
Why change the rules? For years, Cisco has been a silent partner in computing activity on the desktop, content to serve as merely the plumber of mundane connections between computers. But with the advent of what futurist George Gilder has dubbed the "storewidth paradigm," the focus of many IT shops has shifted from communicating instructions between calculating machines — the typical computer networking function — to moving enormous blocks of data wherever they're needed. This presents Cisco with a problem: the prospect that its communications-centric networking protocols will be eclipsed by technologies designed for shoving data over a wire — the stuff Brocade and other storage companies produce.
At the same time, tasks that used to run on conventional computers gradually have migrated to networking boxes built by Cisco's competitors and armed with technology built by Intel. For example, startups Sarvega and Cast Iron Systems are building hardware to process streams of XML data that must be handled by either Web applications or enterprise application integration. These devices take application processing that was once carried out on the server and move it to dedicated pieces of hardware.
Cisco's business of connecting traditional computing devices could evaporate if traditional tasks performed on the server migrate to storage systems, application routers or both. However, a June 19th report by Merrill Lynch analyst John Roy frames this as an opportunity for Cisco.
"We have believed for some time that Cisco is most interested in the intelligent switch market. Intelligent switches could be the next 'server.' The server being where applications run, storage applications […] in this case. In this way Cisco would be stealing CPU cycles from Sun, IBM, and HP," Roy wrote.
It Slices, It Dices
Roy's analysis, however, assumes Cisco will make headway against Brocade in the market for fibre-channel data storage switches. That seems unlikely, given Brocade's substantial lead — it owns half the market. What if, instead of trying to steal computing cycles from Sun, Cisco teamed up with the microcomputer vendor to develop a new kind of server, a computing, storage and networking device all in one? Together, these two heavyweights might cannibalize their markets before the younger companies have a chance.
Instead of big machines sending calculations across many network routers, a rack of processor blades could accelerate calculations across many terabytes of disk drive storage. Technologically, it's not such a stretch. Sun recently has been focusing on replacing large, costly boxes with cheap, rack-mountable blade servers. These processor-on-a-card machines have their roots in Cisco's domain, the networking field, where racks of networking gear are filled with various processor boards depending on the kinds of network protocols a customer needs to handle.
Return of the Megadeal
What could make it work is Sun's Solaris software — a proven development environment for mission-critical applications — and robust hardware engineering. Cisco, for its part, has the stable enterprise customer base that has to some extent been abandoning Sun in favor of Linux and Wintel. Also, of course, Cisco knows how to make all of that processing work at gigabit speeds.
It'd sure be fun for us to see Cisco wed $15 billion Sun in a friendly stock swap. It's been too long without a tech mega merger, and the Oracle-Peoplesoft debacle is too Osbournes, not enough Harry meets Sally. But would they go for it? Cisco has always eschewed the applications business, but it cannot ignore the fact that Brocade and its peers are onto something. As for Sun, its sluggish 6 percent revenue growth (quarter over quarter) and disappointing product sales (down 11 percent in the latest quarter) continue to project the impression that the company needs a new direction, perhaps one as bold as its launch of Java back in 1996.
So here's a toast from a well-wisher to what could be a difficult but intriguing union of equals. Cisco, Sun, what do you say? You're never too old to try something new.