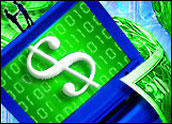 Although Ruben Studdard has officially won the American Idol title, edging out Clay Aiken by a razor-thin margin, the search for America's e-business idol is still under way — and industry observers seem as split over the contenders as the voting public was over the contestants on the top-rated TV talent show.
We asked a few industry analysts to select their e-business idol, and they all voted for different companies. However, all of their picks have merit for various reasons, and as e-commerce continues to grow, all are poised to experience strong surges in popularity. What differentiates these leaders from the rest of the pack?
Cisco's Enterprise Outreach
Paul Ritter of the Yankee Group chose Cisco as his e-business idol, noting that the company's success in this area has been driven by its senior management executives, who firmly believe that fully utilizing the Internet and its related technologies will keep their company in the lead.
Ritter told the E-Commerce Times that Cisco has migrated a great deal of its commercial product sales to an online environment by creating e-business sites that are tightly integrated with its sales channel partners and end customers. "Cisco has a very proactive outreach program that makes it easy for customers and clients to create extranets and buying portals," Ritter said. For example, Cisco's Internet Business Solutions Group helps customers with their business-to-e-business efforts to help them become a part of the Internet economy.
Cisco also might be the leader in using best-of-breed streaming media applications to drive its e-business efforts, Ritter added. Such applications, which are used in online portals, provide information, news and guidance to customers as well as employees.
"Cisco is capitalizing on the benefits that can be achieved through good e-business initiatives, and [is] integrating strategies for both [its own] own internal use for employees and partners, as well as externally in the extranets where business takes place," he noted. "And [it does] both on a huge scale, where hundreds of millions of dollars, if not more, on an annual basis are enabled through those initiatives."
EBay's Bottom-Up Approach
On the other hand, Lisa Strand, chief e-commerce analyst at Nielsen//NetRatings, gave her vote to eBay, which has tens of millions of registered members. She told the E-Commerce Times that the auction giant has been chosen by the public as one of the most popular sites, with more than 35 million people — over 25 percent of the online population — visiting it every month.
Strand noted that eBay makes it easy for companies to search for industry-specific or hard-to-find items — and that more and more companies are encouraging their vendors and suppliers to use eBay as their selling platform. "It's not only big in the online world, it's big in the real world, in the greater world of commerce in general," she said.
Recently, the company introduced its eBay Business marketplace, designed to be a one-stop Web destination for small businesses. With more than 500,000 business item listings every week, eBay estimates that business buyers represent more than US$1 billion in annualized gross merchandise sales, based on fourth-quarter 2002 data. According to the company, the amount of revenue generated by its business and industrial categories grew 90 percent in the last two years. Specifically, in 2002, the restaurant and food-service category grew 88 percent, generating $21 million in gross merchandise sales (GMS); the metalworking equipment category grew 53 percent, generating $34 million worth of GMS; and the construction and agriculture equipment categories grew an average of 115 percent, generating $31 million in GMS.
Google Plex
Meanwhile, the third vote went to Google, which Forrester analyst Harley Manning said has literally won the online popularity contest. "In the late '90s they entered a category called Web portals that everyone thought was so mature that there was no opportunity for new entrants," he told the E-Commerce Times, "and they shot up to be number one."
Manning said Google's success stems from its relentless focus on serving users' needs. "They know that you go to their Web site because you want to find the most relevant Web site fast, so they put the most relevant results at the top of the list, and they do it like a bolt of lightning," he noted. "Even their interface is very, very plain because they know that you don't want to have a bag of marbles thrown in your face when you show up at their Web site, that you don't want all this visual chaff. You want to see the clear path to your goal and achieve your goal quickly."
Although Manning said there are other classic user-oriented sites, such as Amazon.com and Dell, he thinks Google is the standout. "It's the clear winner with a bullet. Each time a visitor visits their Web site, it's a vote, and each returning visitor is an endorsement."
Moreover, Google is not just a powerhouse among users. According to its Web site, the company recently took third place, up from fifth last year, in the Media Power 50, an annual review by national marketing publication BtoB. This award recognizes the company's influence in the B2B sphere among all print, broadcast, online and outdoor media. As the largest search engine on the Web, Google has more than 100,000 customers that advertise on its site, which processes more than 200 million searches per day. It claims to be one of the largest aggregators of buyers and sellers in the B2B market, giving companies exposure to a broad audience.
The Search Continues
Although the search for the world's e-business idolcontinues, all e-commerce companies will be winners if the findings of a Forrester report issued last summer prove true.
That report predicted that e-commerce in the United States will continue to grow at a powerful 25 percent annual clip over the next five years, eventually totaling $217.8 billion, or 8 percent of all retail sales, by 2007. That kind of growth is enough to transform a lot of companies into e-business idols.