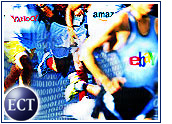 Some believe eBay is the perfect e-commerce machine, with lean operating costs, swift strategy implementation and boundless growth opportunities. Yet, how large can the company become before it meets the playground law of "the bigger they come, the harder they fall"?
After all, the auction giant has set the pace for a host of imitators and wannabes, but as it keeps expanding and launching new initiatives, the company risks losing the quickness of action that initially elevated it above competitors. Recent moves like the acquisition of PayPal and expansion of its auction categories have introduced new layers of complexity into its operations.
On the other hand, if any e-commerce company can pull off large-scale growth and make it look easy, it might be eBay.
Solid Ground
Since eBay first sparked into life in Pierre Omidyar's living room in 1995, the company has outstripped its e-commerce kin. In the bubble years, that proved to be a notable feat. In the post-rooftop party era, it is even more impressive. According to Forrester Research, eBay booked US$15 billion in sales in 2002, making Amazon's $4 billion appear almost paltry.
The reasons underlying eBay's success have been oft discussed but rarely duplicated. In a nutshell, the company combined first-mover advantage with excellent timing and stuck to its simple, straightforward business plan.
Adi Kishore, an analyst at the Yankee Group, told the E-Commerce Times that eBay is, quite simply, an e-commerce rock in a world of marshmallows. "They have a very sound model," he said. "That's become a given. They also lead the industry on providing an incredibly solid back-end, and that shouldn't be taken for granted."
Baby to Behemoth
In addition, even once it had established a firm hold on the auction market, eBay did not rest on its laurels for long. It expanded its categories, refined processes and grew in a way that kept users flocking to the site.
For example, while creating a wider range of auction categories, eBay also invited retailers into the mix. The move caused some grumbling among longtime individual auctioneers, but their grousing proved to be temporary. The company also pushed beyond U.S. boundaries to establish auction sites in other countries.
Last year, eBay's largest move was the acquisition of online payment king PayPalin the wake of that company's successful IPO. The $1.3 billion buy made a great deal of sense: Traditionally, eBay auctions had made up more than half of PayPal's transactions and revenues.
Yet, the move did not come without drawbacks. Several lawsuits were filed on behalf of eBay shareholders, alleging that executives had breached fiduciary responsibilities by accepting and selling IPO shares.
"There was a certain amount of friction in the PayPal deal," Kishore said.Like other difficulties in eBay's past, however, the controversy faded soon after it had begun, and the giant kept growing fast.
Growth Spurt
With such strategic victories under its belt, it seems that eBay is poised to continue trouncing the competition and expanding around the planet. But is there such a thing as a giant becoming too big, if it is not a monopoly?
"At some point, they're going to need to slow down," Morningstar stock analyst David Kathman told the E-Commerce Times. "They're slowing down a little already, but at some point, the growth will have to be limited."
After all, any company that transforms itself from small-time mover to big-time shaker reaches a point at which its scrappy startup energy and freedom of movement are hindered by newfound size and operational complexity.
As Kathman said, "It's sort of the law of large numbers, that the bigger you get, the harder it is to keep growing. When you look at eBay's customer base, you see that it's continued to grow like gangbusters, but not as fast as it was in 1998 and 1999, when more people were rushing online.
"Everybody recognizes that eBay will slow down," he added. "It's just a question of when."
EBay executives were unavailable for comment.
Admirable Qualities
But even if the auction giant slows, that does not mean its growth will stop. Analysts suggest that eBay may find new areas of opportunity in even more selling categories, and that as the overall global economy improves, it could expand into more countries.
Even potential pitfalls for the company are frequently brushed aside as negligible. "They could suffer from a retrenchment in consumer spending," Forrester analyst Andrew Bartels told the E-Commerce Times. "But, on the other hand, they could turn that around to be good for them."
The law of large numbers aside, Bartels said he believes eBay will buck the odds, continuing to enjoy the kind of growth that has set it apart and kept it going full-steam ahead for so long, even through a recession.
"They strike me as doing just fine," Bartels said. "I can't see how that's going to change."