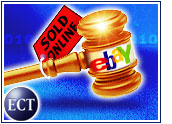 In the dot-com heyday, nothing said success like a business that became a verb. One day, a friend said, "Don't send a cheque, just paypal me." PayPal, which began life in 1999 by giving away ten-dollar bills, stormed the market with a simple premise for sending money from buyer to seller that swiftly catapulted it to the front of the online payment ranks. Even mighty eBay was forced to capitulate, spending US$1.5 billion to acquire PayPal last July, a mere five months after buying PayPal competitor Billpoint.
PayPal is the de facto market leader in the person-to-small business payment universe, but change is in the wind. Since the eBay purchase, PayPal has become a revenue unit of the world's most successful dot-com venture. As such, it may have to raise fees or enter the person-to-person payment service arena in order to protect margins and raise revenues. Having become eBay's secret weapon in the e-commerce wars, PayPal's next moves could make or break the auction giant's franchise.
The Buyer's Pal
PayPal's service was built on viral marketing. Word spread rapidly through the online world that, unlike with competitors BidPay and c2it, sellers — not buyers — paid the PayPal freight. In a nutshell, PayPal lets individuals set up online accounts and add or withdraw money for free, while sellers pay to accommodate those buyers' credit card payments. By research firm Gartner's reckoning, PayPal services 27 percent of adult Web users who buy items online, putting it far ahead of Yahoo's Directpay, Western Union's BidPay and Citibank's c2it.
Here is how it works in conjunction with eBay. The auction giant's sellers sign up for a premiere or business account with PayPal, for which they pay 2.9 percent of the transaction value, plus 30 cents. The figure is slightly lower for high-volume sellers who maintain a rate of $1,000 in PayPal payments per month.
In contrast, other payment services traditionally have charged buyers rather than sellers — and thus have gained less momentum among e-shoppers. For example, Western Union's BidPay charges buyers $5 for every $100, plus 2.25 percent for every dollar above that. c2it charges 2 percent per transaction. Both services place limits on the amount a buyer can transact.
Buyer Beware
Despite PayPal's popularity, however, the service soon may have to tinker with arrangements that have made it a buyer favorite and a must-have for sellers trying to meet buyers' demands. After all, as a unit of a larger enterprise, PayPal can no longer think only about signing up new buyers; it also must feed eBay's bottom line.
Aaron McPherson, research manager for IDC's Payments Apps Financial Insights unit, said he expects PayPal will have to broaden its offerings to build a more solid revenue base. PayPal fees already make up a substantial portion of eBay's earnings. They brought in $72.6 million in revenue in the fourth quarter of 2002 — the first time eBay included PayPal in its reporting — nearly one-fifth of eBay's $396 million in net revenue for the period.
But although PayPal's business is growing nicely — it could bring in $10 billion in transactions this year — it is dragging down eBay's rich margins. The auction giant's gross margins dropped from 82 percent in the fourth quarter to 80 percent last quarter.
Possible Avenues
One way to increase revenues and margins would be to enter the foreign exchange arena, though McPherson noted that competitor c2it is much further along in this area. PayPal began offering payments in euros and British pounds just last fall. In contrast, Citibank allows money to be transferred into local currency in 100 countries for $10, with c2it pocketing the exchange rate. (BidPay also offers foreign exchange, but sellers in foreign countries must be able to cash a Western Union money order, as there is no provision for paying out in local currency.)
Instead of venturing into foreign exchange, McPherson thinks PayPal will start charging individuals to send money to others individuals — milking the buyer at last, in other words. "The other services, such as Western Union, charge lots of money for this, and eBay can undercut them," he explained. "They've got to move in this direction if they want to move beyond just person-to-business transactions."
Star Sellers Speak Out
Others believe eBay will hike rates for sellers before it imposes any fees on buyers. Avivah Litan, vice president at Gartner, said that without the local offices of Western Union and the enormous foreign exchange operations of Citibank, PayPal cannot succeed in ancillary businesses. "They're spending all their time servicing the eBay market," Litan said of PayPal. "They no longer have the focus and the appetite to go after growth markets like foreign exchange the way they did when they were an independent business."
But how can PayPal raise rates on sellers without angering eBay's star merchants? It is a tricky matter. Litan said eBay cannot hike PayPal fees by more than a couple of percentage points, perhaps to 3.5 or 4 percent at a maximum. Even that might be too much.
"I'd definitely consider looking into some of the other services if they raised it," said Susan Kosor of New York, a premiere member of eBay who pays for every sale through PayPal. Still, she confesses, the high fees charged to buyers by BidPay and others would make it hard for her to demand that customers use those services.
Faced with the choice of annoying sellers or weakening its fiscal bottom line, eBay likely will put off making changes for as long as possible. Sooner or later, though, it will have to decide whether it wants to push the PayPal brand into new markets or keep its blue-chip profits. When that day comes, the eBay community will have to make a decision of its own: whether to keep the faith or look for other options.