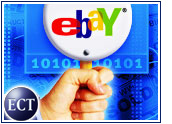 EBay and PayPal have announced that their antitrust waiting period — a time during which the U.S. Department of Justice can ask for additional information from either company — has expired without government regulators making a second request for more information.
That so-called "second request" is often a sign that DOJ regulators are taking a closer look at a merger. It can be enough to stop companies from moving forward with a merger or acquisition, as was the case with the proposed purchase of Jupiter Media Metrix by competitor Nielsen//NetRatings.
PayPal shares, which have been slowly losing value of late, were up sharply early Tuesday, rising as much as 10 percent on the news. Meanwhile, eBay's stock pricefell about 3 percent.
Still Waiting
The merger still requires approval from eBay shareholders. That approval is expected to come this fall, but the companies face several other hurdles, including investor lawsuits, filed in mid-July, alleging that the deal undervalues PayPal shares.
And state regulators continue to probe PayPal's online gaming business, which eBay has said it will discontinue when the merger is complete.
Old Hat
EBay is no stranger to antitrust inquiries. Earlier this year, an investigation into its long-running battle with now-defunct Bidder's Edge closed without government action.
"Antitrust issues will always be something to worry about with a company as dominant in its field as eBay is, but so far they've done a good job of avoiding problems," Morningstar.com analyst David Kathman told the E-Commerce Times in a recent interview.
Kathman noted that the DOJ spent more than two years investigating eBay in the wake of the Bidder's Edge flare-up, which resulted in an out-of-court civil settlement, although the government apparently did not come forth with any findings. "If they didn't find any antitrust violations in two or three years, I have to believe there wasn't anything there," he said.
Plans still call for a fourth-quarter closing of the US$1.5 billion all-stock deal. EBay said it plans to integrate PayPal's employees into its own operations. Workers associated with the company's own Billpoint system will either be offered other positions or laid off after the merger completes.
More Competition
Once the deal closes, eBay will emerge with PayPal in a different competitive landscape, especially as several other large companies have been reconfiguring their online payment systems.
In recent weeks, for example, Microsoft has started to position its Passport service as an e-commerce payment system, inking a deal with Arcot Systems to allow e-commerce sites to authenticate credit card payments with a Passport username and password.
And in the past two weeks, Yahoo! has removed some of the fees it previously had been charging for its PayDirect system. The new fee structure will let consumers complete some person-to-person transactions for free.