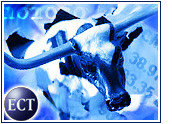 EBay reported Thursday that its second-quarter revenue and net income increased compared with the year-ago period, setting a profitability record for the online auction giant.
The San Jose, California-based company reported second-quarter consolidated net revenue of US$266.3 million. Net income totaled $54.3 million, a whopping 121 percent hike over second-quarter 2001 results.
Net revenue generated by online transactions increased 66 percent from the year-ago period, reaching an all-time high of $253.3 million, driven by 48 percent year-over-year U.S. growth and 152 percent year-over-year international growth.
The only negative figures were an expected 11 percent decline in year-over-year third-party advertising revenue, according to eBay. All in all, the company booked 47 percent revenue growth compared with last year's second quarter.
Record Growth
"The strength of our transaction business allowed us once again to deliver record revenues and record profitability," said Meg Whitman, eBay president and CEO. "These results demonstrate that our continued focus on expanding the eBay marketplace is accelerating the company's growth around the world."
EBay users transacted a record $3.4 billion in gross merchandise sales during the second quarter, a 51 percent jump from the same period last year. The number of listings during the quarter rose 47 percent during the year to 145.2 million.
Bucking the Trend
EBay is bucking a downward trend in tech company earnings. What accounts for the company's stellar performance during a tough economic time? The answer is bargain-hungry consumers, according to Giga Information Group analyst Rob Enderle.
"A lot of people who have been laid off have gone to eBay as a source of revenue," Enderle told the E-Commerce Times. "Consumer spending has held up relatively well, but they are looking for bargains."
Enderle said it boils down to having the right service in the right place at the right time.
"EBay is benefiting from the down market, which is hitting traditional sellers pretty hard," he noted.
Killer Categories
EBay posted double-digit growth in most top-level categories. The top 10 performing categories were eBay Motors, Computers, Consumer Electronics, Book/Movies/Music, Sports, Collectibles, Toys, Clothing & Accessories, Jewelry & Gemstones and Photo.
Fixed-price trading contributed to more than 19 percent of total gross merchandise sales during the quarter, with 29,000 sellers taking advantage of the enhanced merchandising capabilities of eBay Stores.
EBay reported adding 4.4 million new confirmed registered users, bringing its total to a record 49.7 million people. The company's assets now total nearly $2 billion.
Q3 and Beyond
EBay executives said third-quarter net revenue could range from $278 million to $281 million.
The company is sticking with earlier forecasts for total 2002 net revenue of about $1.1 billion.
Looking ahead to 2003, eBay is estimating net revenue could total between $1.5 billion and $1.55 billion, based on an expected 45 percent year-over-year growth rate in online transaction revenue.
PayPal Not Included
The 2003 estimates, however, exclude the expected impact of eBay's recently announced agreement to acquire online payment company PayPal.
Analysts said PayPal should provide a boost to eBay's revenue going forward, but also might increase costs and lead to an earnings contraction.
EBay shares dropped $1.17 to $60.45 at market close. The earnings report was issued after the closing bell rang.