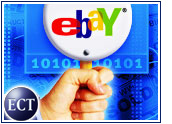 In a widely anticipated move, auction giant eBay has announced it will acquire online payment company PayPal in an all-stock deal valued at US$1.5 billion.
EBay said it will phase out its own Billpoint system, long a disappointment to the auction site, after the PayPal deal closes. The companies expect the buyout to be completed by year's end, pending government and shareholder approval.
Under the terms of the deal, each share of PayPal will be exchanged for .39 shares of eBay. Based on eBay's Friday closing price of $60.55, the merger values PayPal at about $23.61, more than $3 above its Friday close of $20.
Come Together
EBay spokesperson Kevin Pursglove told the E-Commerce Times that while eBay and PayPal discussed an acquisition early this year, the deal came together in the last four weeks, after PayPal announced it was planning a secondary stock offering. That move drove PayPal shares lower.
"We believe the valuation is fair and that the deal is financially attractive," Pursglove said. "We are basically trading 8 percent of ourcompany for the most popular online payment network, which we believe will expand both platforms and increase the value of both companies."
PayPal employees, including upper management, will remain in place after the acquisition, Pursglove said, reflecting eBay's desire to maintain the PayPal brand. EBay will try to find other positions for current employees of Billpoint as it is phased out in early 2003, he added, "but there is a chance that we may not find jobs for all of them."
Trading Up
The merger combines two of the e-commerce stocks that have performed best in recent months.
PayPal shares have traded up strongly since February, when the company became the first e-commerce firm to pull off an initial public offering in more than a year.
EBay has been one of the most consistently profitable companies in the e-commerce space. The auction giant cautioned, however, that the final value of the deal might change because of share price fluctuations.
In early trading Monday, PayPal shares shot up 12 percent to $22.55. EBay was down 2 percent to $59.19.
Much Sense
In announcing the acquisition, eBay called PayPal a "natural extension of eBay's trading platform" and said the move will benefit eBay shareholders by creating operational efficiency.
"EBay and PayPal have complementary missions," said eBay CEO Meg Whitman. "We both empower people to buy and sell online. Together we can improve the user experience and make online trading more compelling. We can also capture greater value from the e-commerce opportunities occurring both on and off our site."
Morningstar.com analyst David Kathman told the E-Commerce Times that the two companies make a logical fit. "I think eBay is getting a pretty decent deal," Kathman said. "PayPal will be a key strategic asset for eBay, dominant in its field and growing fast."
The purchase price, he added, represents a premium of 24 percent over Friday's closing price, "not at all excessive, especially when you consider that PayPal was trading as high as $30 as recently as late May."
Long-Awaited Move
Many industry observers have long expected eBay to make a move for PayPal. In fact, PayPal shares surged past the $26 mark in mid-April as broadcast reports claimed the two companies were engaged in merger talks.
Two months earlier, just after PayPal's IPO, the company's shares had fallen to their lowest-ever level when eBay announced it would buy back full control of its Billpoint online payment system from onetime partner Wells Fargo. That deal cost eBay $43.5 million.
"The failure of Billpoint is a tough pill to swallow, but eBay has never been a company to wallow in its failures," Kathman said.
"About the only comparable situation is the failure of eBay's Japan auction business," he added, "but at least in this case they're able to buy their main rival and thus create a strong base for the future."
Bouncing Back
Kathman pointed out that "eBay is as strong as ever financially, so they have the luxury of being able to take chances which may not always work out."
Indeed, many eBay users clearly were perturbed by the auction site's efforts to push Billpoint at the expense of PayPal, giving buyers and sellers the option of quickly paying with eBay's system or doing extra work to use PayPal.
In fact, at its recent convention, eBay found itself answering a host of questions about payment options and about why PayPal did not have better placement on the eBay site.
Earnings News
While taking over PayPal will immediately help eBay's revenue stream, eBay said it will take charges connected to the stock being issued for the deal, which probably will dilute earnings for the next two quarters.
PayPal CEO Peter Thiel said his company will retain its brand name and will continue to operate outside eBay's sphere of influence.
But the deal is a nod to the fact that eBay sales account for more than 60 percent of PayPal's business, with the remainder coming from small online merchants that "constitute a potential new audience for eBay."
Strong Results
Meanwhile, eBay also announced that it will narrowly beat revenue and earnings estimates for the second quarter.
According to the auction giant, revenue will come in around $266 million, just above its own guidance of $260 million to $265 million. Pro forma earnings will total $54.3 million, or 19 cents per share, compared with forecasts of 17 cents per share.
"These stronger-than-expected results were highlighted by an accelerating U.S. transaction business, which grew 48 percent year-over-year, combined with year-over-year growth from international operations of 148 percent," eBay said.
Both eBay and PayPal plan to announce second-quarter results later this month.