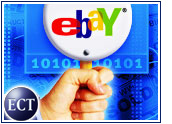 To say that eBay has a devoted following is like saying the Beatles were liked by some teenage girls. While true, the statement does not reflect the full scope of fans' zeal. Analysts love the company, competitors fear its power, and users flock in ever-greater numbers to its homespun marketplace.
But the adoration is not universal. Recurrent complaints of fraud, shoddy bidding practices, and poor search engine capability and customer service have tarnished eBay's sheen in the minds of some consumers.
For example, some users question whether the company's "hard close" auction method — where a bidder can leap in at the last moment — is a fair way to handle bidding.
Indeed, even as eBay is lauded by observers of e-commerce, it also is trying to do damage control to keep its reputation clean.
Store House
In a push to attract more retail sellers, eBay recently has begun to prominently feature retailers who are selling through its site. The company's increased attention to big companies was not received well by some longtime users.
But Forrester analyst Carrie Johnson told the E-Commerce Times that eBay may have to put up with the grumbling if it wants to grow.
"They need to draw retailers in because they need more mainstream buyers," she said. "Then, consumers who were hesitant to bid will get over their fears. So, there's definitely a network effect to having retailers on board."
Although eBay grew organically, building a site that now boasts more than 46 million registered users, the auction giant will need to do more going forward. Johnson suggested that eBay will have to start reeling in even more big players.
"Right now, a few more individuals a day are joining," she said. "But to grow, they need to attract large groups of folks. You can't do that without signing up big retailers."
Grumbling from the Gallery
Most of the individuals who make up eBay's current community seem content with the way the company operates, but a vocal minority has expressed unhappiness about the larger retailers that have become part of eBay's focus.
However, eBay spokesperson Kevin Pursglove told the E-Commerce Times that large retailers represent only a small percentage of all eBay sellers — and are expected to remain a minority.
"While there has been a good deal of attention focused on the national brands, theypresently account for only 2 or 3 percent of gross merchandise sales on the site," Pursglove said.
"[Though] eBay is optimistic about the potential of larger businesses participating in the eBay marketplace, we believe that such businesses would account for no more than 10 to 12 percent of total GMS," he added.
"The great majority of items sold on the site will continue to be [sold] by small to medium-sized business and sole proprietorships."
Customer Disconnect?
At a recent meeting with a dozen disgruntled customers, eBay director of marketing Bill Cobb admitted that communication between the company and its users is spotty, and added that a better way will be devised soon.
Currently, customer service representatives rarely answer complaints or queries posted to the site's message boards, leaving other auction-goers to address concerns.
And when an eBay reply is offered, it is often automated or canned.
However, Pursglove said, "we keep a constant eye on the boards and discussion groups. Meg and the senior management team receive a daily summary of issues thathave been addressed on the boards."
Serious Charges
Fraud is the most frequent charge against the auction giant, and some analysts say they believe eBay may never be able to solve this problem.
"It's the problem with getting too big too fast," Johnson said. "Policing ends up being the job of community members rather than eBay itself. That leaves the company open to lawsuits."
But according to Pursglove, eBay is fighting the dark side. He said the company's data show that in the first quarter of this year, "less than 1/100 of 1 percent of all the listings on eBay resulted in a confirmed case of fraud.
"Most importantly, cases are getting prosecuted," Pursglove added. "Dozens of Internet criminals are going to jail, paying fines and returning money to victims in state and federal cases across the country and around the world. Each successful prosecution sends an important message that the law does apply on the Internet and particularly on eBay."
"They're working on it, but it's a huge challenge," Forrester's Johnson noted. "It's why they haven't convinced more conventional companies to sell their goods through eBay."
Dealing with the Dark Side
Despite grousing on the part of some users, however, affection for eBay is still overwhelming.
Jared Blank, an analyst at Jupiter Media Metrix, told the E-Commerce Times: "It's hard to find a ton of things wrong with eBay. Some sellers complain about them, but where else are they going to reach that many buyers?"
With so many users, Blank suggested, it would be surprising if no one grumbled. "Some people will be unhappy," he noted. "But it's hard to take those complaints seriously."
There's Still Love
Pursglove seemed to agree that eBay has done a good job of battling its "dark side." "Let's face it, we have gotten it wrong a few times," he noted. "But for the most part, we believe we do a good job of listening to the community and working well with the users."
Blank said he believes problems and snafus will amount to only a minor blemish on eBay's record.
"This is one of those unique stories where the market leader is not widely reviled," he said. "I mean, look at Microsoft. They're the leader, but so many people hate them, whereas for eBay there seems to be nothing but love."