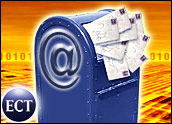 Microsoft announced today that it has filed nine new lawsuits against alleged spammers, including a Web-hosting company that offered services specifically for people who send unsolicited e-mail.
The suits are part of a larger effort by Microsoft to target the perpetrators of spam. With this batch, filed last week in Washington state, the company is now involved in more than 100 lawsuits against alleged spammers. Microsoft has noted that about 70 of the lawsuits have been filed in the United States.
Going after spammers rather than focusing only on developing antispam technology is an important step, John Movina, spokesperson for the Coalition Against Unsolicited Commercial Email, said.
He told The E-Commerce Times that because the United States has weaker criminal laws against spam than other countries, it's vital to develop other means to stop individual spammers. "Our [criminal] laws don't work, so that leaves taking them to court," he said.
Microsoft v. Spammers
In the recently announced suits, the most notable is one filed against the Web hosting company, National Online Sales, and its owner, Levon Gillespie. National Online Sales advertises its "unbreakable e-mail marketing services" and has servers in China.
It is the first legal action to be filed against a Web host that allegedly caters to spammers.
As provider of Hotmail and MSN mail, Microsoft is hit particularly hard by spam, according to analysts. Going after hosting companies could be an effective tactic, although some spammers have recently been trying to avoid hosting companies through the use of zombie PC networks that tap into computers compromised by viruses, turning them into hosts for spam.
In its pending suits, Microsoft will have the ability to use its experience in an early case to provide it guidance. In July, the federal court in Los Angeles ordered a California spammer — Daniel Khoshnood of Canoga Park — to pay the company US$4 million for using the company's product names in spam e-mails.
Bad Solicitation
The move toward shutting down spam operations is also important to help corporate e-mail users, which have suffered productivity losses and security threats because of spam.
Movina noted that beyond using antispam software, little can be done to dam the spam river. "There just aren't many avenues for people to take in terms of stopping the problem," he said.
IDC analyst Jonathan Gaw told the E-Commerce Times that another challenge in devising a desktop-level solution is that individuals have different preferences in terms of spam tolerance.
"For most of us, we'd rather get the spam than risk missing an important e-mail," he said.
He added that this preference difference is one of the reasons the spam battle is going so slowly at the software level. He said there also is a general lack of knowledge in the industry about how to effectively stop spammers.
"In many ways, we don't have a clue as to what we're doing," he said. "That's why spam just keeps multiplying."
With software providing only minimal protection from spammers, Microsoft's lawsuits provide some hope, those in the industry said, because rulings could determine how future suits are handled.
Shot Down
Although Microsoft's efforts to use the court system to take down spammers has been praised, another of its moves on the issue has taken a very different turn.
On Wednesday, the technical standards body Internet Engineering Task Force announced that the working group responsible for developing consensus around the Sender ID proposal has been disbanded.
Sender ID is designed to identify whether an e-mail's source address is the originator of the message. Microsoft developed the Caller ID portion of the specification.
Disagreements among the working group members were numerous, centering on fundamental issues that the group's cochairs said could not be resolved.
In recent weeks, Sender ID was dealt other blows, most notably when the Apache Foundation announced it would not support the standard because of licensing concerns. Other open-source groups soon made similar announcements.
Despite the Sender ID setback, Microsoft has noted that it remains committed to contributing to antispam measures.