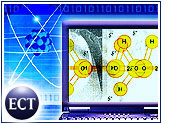 Antibiotech demonstrators faced off against police outside of the Bio 2004 conference on Tuesday in San Francisco. The confrontation resulted in 150 arrests, most resulting from demonstrators refusing to disperse from a busy intersection.
The demonstrators crowded the streets around the Moscone Convention Center, with most from a local activism group called Reclaim the Commons. They criticized the use of genetic engineering in agriculture with signs like, "Food from farms, not labs."
Bio 2004 was attended by approximately 18,000 people, and the annual gathering has often drawn similar protestors in the past. The conference is largely attended by individuals associated with the pharmaceutical industry, as well as biotechnology scientists and government officials.
Vocal Minority
The protests done by Reclaim the Commons was part of a weeklong series of activities by the group, spokesperson Carla West told the E-Commerce Times. The group's mission is to reclaim what it feels to be "common property" among global citizens, such as clean air, adequate healthcare and access to education.
During the week, the group brought together activists, scientists, farmers and others to focus on a range of topics, from biowarfare to racial justice.
West said that the Tuesday protest fit in well with the other activities because it expressed the group's desire to limit the use of genetically modified food.
The group also questions corporate control of biotech, and disagrees with the profit-driven motives of many in the industry, according to West.
Arresting Developments
Although Reclaim the Commons did not set out to spark arrests, West noted that some group members might have felt it was necessary to emphasize their points. "Some people are willing to risk arrest if that's what's needed to get the message out," she said. "Our main focus was to get the message out in whatever way we could."
Most of the protestors attempted to convey their opinions through creative means, West said, with the use of puppets, dancing and costumes.
"People were really trying to find artistic ways to express the fact that a lot of San Franciscans don't support the biotech conference being here," said West.
She added that although other issues like biowarfare were discussed in panels and educational activities, the group decided on a protest for Tuesday because members felt it would be the most effective method for communicating their concerns.
"A demonstration is a longstanding American tradition," West said, "and we feel that having the right to speak out is part of a being a citizen in a democratic country."
Early in the day on Tuesday, 33 people were taken into custody, according to San Francisco police, and about 125 protestors were later arrested as well. Police officials noted that those arrested were taken in because they blocked traffic and refused to disperse when it was requested.
Strong Debate
The presence of protests at gatherings like Bio 2004 has become fairly standard, said Jeff Stier, associate director of the American Council on Science and Health, a nonprofit consumer education organization.
In an interview with the E-Commerce Times, Stier said that demonstrators frequently mix up issues. Although most carry signs about the health effects of genetically modified foods, Stier has found that, most often, it is the presence of large corporations that really bothers them.
"They're anticorporate, and anti-agribusiness," he said. "They feel that if it's big and corporate, it must be bad. Then they use health to try and scare us."
Stier added that the ACSH supports the use of genetic engineering in food production. The group's president, Elizabeth Whelan, recently published an opinion piece in Environment News in which she accused antibiotech activists of sowing fear.
"American consumers should be appalled at the thought of antibiotech activists declaring war on so-called genetically modified organisms," she wrote.
Stier echoed her concerns, and noted that he was not surprised at the protests and subsequent arrests at the Bio 2004 conference, but he feels such demonstrations are unnecessary.
He said, "I think it's unfortunate when ideology gets in the way of science."