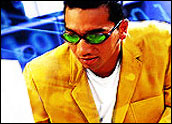 One of the great promises of the Internet has always been that it can bring people together, no matter their location or technology. Social network sites like Friendster, Orkut and LinkedIn are making this promise into a reality every day by attracting millions of members that spend hours chatting with prospective friends and potential love interests.
But just because you can get thousands of people typing at any one moment does not mean that they will hand over their wallets as easily as they do their personal info.
Although there has been significant investor interest, most social-networking sites are not powerhouses of revenue creation. That might change, though, as they shift from building the frameworks for their social-networking companies to building unique ways to make money from them.
Where's the Checkbook?
One of the main ways that networking sites have filled their coffers is through venture capital money.
Within the past year, Friendster landed US$13 million from blue-chip VC firm Benchmark Capital and Kleiner Perkins Caufield & Byers. EBay's Pierre Omidyar invested "several million dollars" in Meetup in October, the company has noted. Spoke, launched last year, received a $12 million investment round in December to add to the $9 million in VC money that it already had.
The recent influx of cash into the industry feels mildly familiar to those who still remember the Pets.com days, but those in the field insist that history is not repeating itself. This time, there is actually potential to turn a profit.
"It's definitely a potential moneymaker," Aberdeen analyst Kent Allen told the E-Commerce Times. "What you're seeing is people looking at these communities and figuring out how to get revenue."
Your Ad Here
The result of all the investor interest, Allen said, is that networking sites are now moving toward an e-commerce model rather than just building online community centers.
An indication of this direction can be seen in Friendster's recent hiring of Scott Sassa as its CEO. A former NBC entertainment president, Sassa was specifically brought in to develop revenue streams for the site, according to the company.
Friendster has stated that it is trying to discover a way to bring advertising to the site, a tried-and-true way to increase revenue. But it will have to be careful not to upset members that might be wary of being turned into just another target demographic.
"Doing an ad model is tricky," Allen said. Because network members give personal information, they might flinch when that data results in targeted advertising. Whether Friendster can pull it off and not upset members will make their strategy worth watching.
Premium Blend
Rather than figure out how to deliver ads, some sites are more focused on beefing up services to the point where they can offer premium memberships for a fee.
This is the tactic that LinkedIn will be launching this year. Because the site caters to a business audience rather than a social one, it will be able to make a transition from free to paid more easily, said LinkedIn spokesperson Konstantin Guericke in an interview with the E-Commerce Times.
"The way our members look at the site is not as a community, but as a tool," he said. "Hammers don't come with advertising, so why should we? You pay for your tools, and that includes business tools like databases and applications."
Because the site has over 700,000 members, Guericke is confident that adding a premium option will be a success.
If LinkedIn member Doug Bonestroo is any indication of other members, the site should have no problem finding a fast-running revenue stream. Bonestroo told the E-Commerce Times that he has used the site to find potential employees, advisory board members and prospective investors.
"It's given me the single highest return on investment, by a longshot, than anything else I've ever done," he said. "When I think about the value I've gotten, I've often thought it's sad that they're not monetizing the service."
Creative Strategies
Some sites are looking at other ways of drawing members while satisfying their investors. Meetup, which will be launching a new version in August, makes money in three different ways, said Myles Weissleder, the company's vice president of communications. He told the E-Commerce Times that Meetup offers a premium service with added tools and benefits, similar to what LinkedIn has planned.
But the site also has two other revenue strategies in place as well. Organizations that want to draw members, like the "Kerry for President" campaign, pay a monthly service fee to partner with the site. Also, Meetup has a network of thousands of local venues where members can, appropriately enough, meet up. These places, like coffee shops, can choose to pay a fee to be affiliated with the site.
In the realm of the truly creative comes strategies like Tickle's deal with Fox TV. The company has implemented an integrated advertising campaign with the studio's new program "North Shore." Tickle spokesperson Jennifer Hwang told the E-Commerce Times that the site created social networking profiles for some of the key characters on the show and promoted them on the site as "featured members." Can a networking event with Bart Simpson be far behind, one wonders?
Allen noted that all these different strategies demonstrate that social networking sites have evolved, and are taking their place in the e-commerce landscape. "As there are more opportunities to create revenue," he said, "it'll put more teeth into the model."