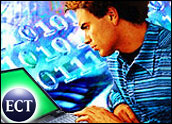 Social networking pioneer online service Friendster has tapped former NBC entertainment president Scott Sassa as its CEO, replacing interim CEO Tim Koogle.
Friendster gave Koogle the reins in March, three years after he had stepped down as CEO of Yahoo and was replaced by Hollywood studio executive Terry Semel.
Sassa's goal, the company announced in a press release Thursday, is to make the site profitable and to grow its membership more quickly than it has thus far.
You've Got a Friend
Founded two years ago by current chairman Jonathan Abrams, Friendster was built on the idea that friends — and potential paramours — could connect through an electronic network.
It brings people together, not through anonymous chats or random pairing, but through "networks of friends." Currently, it has more than 7 million members.
The site has competition from rival sites like Tribe and ZeroDegrees, as well as from Google's new social networking business, Orkut. But so far, such networking sites have failed to generate significant revenue.
Friendster has collected US$13 million in venture capital from high-profile firms Kleiner Perkins Caufield & Byers, Benchmark Capital, Battery Ventures, as well as from individual investors.
In the Interim
Although Abrams will remain at Friendster as chairman, the company chose to bring in company board member Koogle as a stand-in until it could find a permanent CEO.
Some in the industry have wondered why Koogle was not a contender for the top spot at Friendster, but the former Yahoo head was not interested in the job.
Rather, he assisted Abrams with the executive search and took the interim position as a favor, apparently with the company's interests in mind.
Friendster spokesperson Lisa Kopp told the E-Commerce Times that Koogle will continue to be a very active board member and investor.
Taking the Reins
Kopp added that it did not take Abrams and Koogle long to decide that Sassa was their pick for CEO.
"He's a great fit," she said. "He has excellent experience in scaling companies, and he just has a really good sensibility about what we're doing."
Before NBC, Sassa spent nine years at Turner Broadcasting Systems in various executive roles, and is credited with launching seven networks over a seven-year period, including TNT, Cartoon Network and Turner Classic Movies.
In Thursday's press release, Koogle stated that marrying Sassa's experience with a growing Internet service such as Friendster will be powerful.
"Over the past several months, Friendster has been building the foundation for a strong advertising model, and we believe Scott will be instrumental in helping the company develop a great business," Koogle said.
Also in the release, Sassa noted why he was leaving television and diving into the Internet pool. He explained that the Internet and digital technology are turning the entertainment business upside down, and the shift has created new opportunities to affect how people spend their free time.
"Friendster's mass appeal, viral growth and stickiness will make it one of the brands that will redefine the media landscape," Sassa said. "[Abrams] and I are looking forward to leading the company as we build a major consumer brand."
Difficult Navigation
As Sassa attempts to turn friendship networks into a revenue stream, it is likely that he will have to tread carefully in balancing the needs of the company with those of the site's users.
In an interview with the E-Commerce Times, Friendster member Jenny Johnston noted that she would not mind a low level of advertising. But anything more than that would go against the feel of the site, she noted.
"I like to think of the site as an effort to really use the Web as a medium through which social networks are made visible," she said. "That's novel and cool. But turn it into a commerce site, and commercialize my friendships in the process, and I'd quietly slip out the back door."
No matter how Sassa decides to navigate among investors and Friendster members, Kopp noted that the mood at the social networking site was one of optimism. "[Sassa] rounds out the management team in a super way," she said. "We're all very excited about having him here."