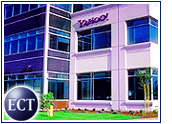 Yahoo will unveil an upgrade of its Web-based e-mail service this summer that includes greatly expanded storage capacity for free users and "virtually unlimited" storage for paid customers.
The upgrade, seen as a direct response to Google's controversial Gmail service, which will offer what is, for all practical purposes, unlimited storage for free, was announced during Yahoo's annual meeting with financial analysts in San Francisco this week.
Users of Yahoo's updated e-mail service will get 100 megabytes of space for free. While the company did not specify how much storage paying users will receive, it hinted the amount will be on par with the gigabyte Google has promised to provide with Gmail, which is currently in beta.
Number One for Now
Jim Brock, senior vice president of communication services at Yahoo, said the portal constantly looks for ways to entice free users to become subscribers to premium services and to leverage those existing relationships into deeper use across the portal.
Brock said Yahoo pulled away from competitors by constantly improving its e-mail service, being first to add such features as spam filters and stored address lists. That initiative helped Yahoo become the top e-mail provider in the United States, he noted.
"Our objective has been to make storage a non-issue for users," Brock said, noting that premium users already can store as many digital photos as they want. "We see e-mail as the center of a vast communications hub. It's just the beginning of what our users will be able to do with their e-mail sign-on."
Broad Initiative
Revamped e-mail was just one of several initiatives Yahoo revealed during its daylong confab with analysts, many of them in the search arena, and most aimed at answering the competitive threat from soon-to-be-public Google. Executives said they have at least 50 different search innovations in the pipeline.
CEO Terry Semel, marking the third anniversary of his hiring at Yahoo, repeated his assertion that Google's IPO will only make Yahoo stronger in the long run.
"We thrive on competition," Semel said. "There are so many opportunities for us to grow. We have to stay focused. We're never going to change our strategy, which is to be the most essential Internet company.
"We will change the search space," he added. "But that will be only part of what we do. If that's all we do, we'll have failed."
More Than Technology
Indeed, Forrester Research analyst Charlene Li told the E-Commerce Times that although Yahoo likely will want to keep tabs on Google, it may enjoy a stronger overall position as marketers seek to get their messages before more Web users and as the distinction between companies in the search marketplace becomes less and less about technology.
"Google wants to make search ubiquitous, and that is something marketers have responded to," Li said. "But Yahoo simply has much more opportunity to get results and ads before users more often and in more specific, actionable contexts."
Playing to Strengths
On the other hand, Piper Jaffray analyst Safa Rashtchy said that because Yahoo offers so many different products for consumers, it will have to avoid spreading itself too thin by responding to whatever new innovations Google and other competitors, such as AOL and Microsoft, develop.
"If it fits into their overall strategy, then it makes sense for them to devote the resources to it," Rashtchy told the E-Commerce Times. "Their focus is on keeping their members and growing their subscriber base, so anything they do to that end is in line with their longer-range strategy."
Also at the conference, Yahoo reiterated its guidance for the rest of 2004, saying advertising revenue appears poised to continue growing as more marketers turn away from television and other media and toward the Internet.