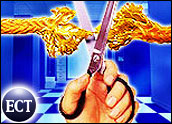 Yahoo has given the boot to longtime partner Google, saying its own family ofsearch tools, based on its own technology, will now return results to its users.The move puts an end to what had become an increasingly awkward relationship.
The severing of ties, which Yahoo hintedat earlier this year, also sets the stage for a far more aggressive head-to-head battle between the two companies for both paying advertisers and the eyes of the general Web-using public.
"They were already competing, but there was an element of the absurd to itsince Yahoo users were still seeing Google results as well," Yankee Groupanalyst Rob Lancaster told the E-Commerce Times. "All the consolidationof 2002 led to this, and now there's little doubt that the two of themare going to be bitter rivals for dominance in the search space."
Goodbye Google
Yahoo said its move to integrate results from its own algorithmicsearch tools is just the first step in what it promises will be an ongoingrollout of new search features, ranging from personalization to localizedsearch results.
The new search platform pulls together technology from Inktomi,which Yahoo owns, as well as Fast Search & Transfer and AltaVista,which were owned by Overture before Yahoo bought that company last year.
Half a Loaf
Yahoo said the changeover means its technology will be responsible formore than half of all searches conducted in the United States.
Jeff Weiner, senior vice president of Yahoo's search and marketplacebusinesses, noted that the company is ready to "change the game in search."
"Within the next few weeks and months, consumers will continue tosee improvements to Yahoo's search technology in addition to advancementsin search personalization and other user features," he said.
Search will be more closely tied with My Yahoo! customizationfeatures, Weiner added, enabling search results to be stored in the personalarea of the portal. Yahoo also will use antispam technology to filter outpages or links that are obviously irrelevant.
Farewell to Friendliness
Hardly one to take such an event lying down, Google used theoccasion to boast that its search engine now reaches some 6 billion Webpages, images and documents, a large jump from the 3.3 billion pages itindexed just over a year ago. Google said much of the increase came inthe images category as more Web users posted digital photos online.
Google claimed the inclusion of more pages in its index willensure more relevant search results and will help users seekinginformation that is off the beaten path. Co-founder Larry Page said the dataunderscores the fact that Web surfers "can find more information withGoogle than with any other search engine."
Just Beginning
Piper Jaffray analyst Safa Rashtchy told the E-Commerce Times that Google's bragging-style offensive likely will escalate as the company prepares for what is expected to be a springtime initial public offering. Still, Google remains the underdog in some key areas.
"If Yahoo can keep those people on its portal right there whenthey search, their opportunities for driving revenue should be plentiful,"Rashtchy said. "They've got an advantage in terms of eyeballs and an upperhand because of existing relationships with advertisers. Google is goingback to what got it to this point, which is its technology."
Google also recently staged a low-key launch of a Friendster-likesocial networking site called Orkut, though analysts remain skepticalabout that niche's ability to be a revenue- and profit-generator.