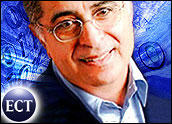 In a move that could dramatically alter the booming search engine marketplace, Yahoo has announced plans to acquire Overture, the company credited with pioneering the pay-for-placement search business model, in a cash-and-stock deal worth more than US$1.6 billion.
The agreement calls for Overture shareholders to receive about .6 share of Yahoo stock and $4.75 in cash for each share of Overture they hold. Trading in both Yahoo and Overture shares was halted Monday morning as the news broke. When trading resumed, both stocks moved higher, with Overture shares gaining 12 percent.
In buying Overture, once known as GoTo.com, Yahoo also will gain the smaller firms Overture purchased as it fought to keep pace in the increasingly competitive search landscape, most notably AltaVista, which it bought for $140 million in February. The move also clearly positions Yahoo as the top competitive threat to Google, which has taken the search world by storm in recent years.
Top of the Pops
Yahoo CEO Terry Semel said the purchase catapults his company to the top of the Internet advertising market, giving it a stronger foothold in integrated marketing solutions, "including branding, paid placement, graphical ads, text links, multimedia and contextual advertising."
Yahoo cited Piper Jaffray research predicting the market for commercial search alone will grow from $2 billion this year to $5 billion annually by 2006, an annual expansion of some 35 percent. Yahoo previously had moved to shore up its search capabilities by buying Inktomi for $235 million last December.
"There's real big upside," Semel said in a conference call with analysts and reporters.
Defense and Offense
Yankee Group senior analyst Rob Lancaster told the E-Commerce Times that the new Yahoo deal is an extension of a flurry of smaller deals that took place in late 2002 and early 2003, resulting in a changed marketplace.
"The industry had to change to accommodate the fact that search was no longer an advertising-supported endeavor in the same way it was for the first few years of the commercial Internet," Lancaster said. "All of the merger activity was a reflection of that larger shift."
Merger Mania
Semel said Overture brings overseas reach to the table as well as a stable of some 88,000 advertisers, many of which are small and medium-size businesses that will make logical customers for Yahoo's suite of business services, such as Web hosting and Web conferencing.
Yahoo said that if the deal gains regulatory approvals and closes as expected by the end of this year, it intends to make Overture a wholly owned subsidiary, with current CEO Ted Meisel staying on to oversee the unit.
The deal extends the run of recent activity on the mergers-and-acquisitions front in the technology world. In addition to the Oracle/PeopleSoft/J.D. Edwards saga, which may reach a key turning point today in the form of a U.S. Department of Justice decision on whether it will more closely review Oracle's hostile bid for PeopleSoft, EMC last week announced its own acquisition of Legato Systems for $1.3 billion.