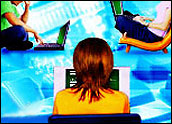 Yahoo has fired the latest volley in the enterprise instant messaging turf war, saying it will work with WebEx Communications and BEA Systems to extend the capabilities of its Enterprise Messenger product.
Specifically, Yahoo said it plans to add the ability to launch WebEx virtual conferences from personal desktops and to embed instant messaging inside custom software applications.
Steve Boom, a Yahoo vice president, said the convergence will allow employees to launch Web-based voice conferencing and information sharing in a number of formats, including QuickBooks, Excel and AutoCAD, from within their instant messages, "creating an integrated real-time collaborative environment."
Battle Bots
Analysts noted that the WebEx component is being added to Yahoo's offering just as work is under way at Microsoft headquarters in Redmond, Washington, to integrate PlaceWare, which the software giant bought earlier this year, into Microsoft's own enterprise-class IM product.
The collaboration with BEA is designed to enable Yahoo's IM product to become part of a variety of enterprise applications, such as customer relationship management software. Yahoo already has similar agreements in place with Novell and Sun Microsystems.
"We envision an enterprise platform that leverages presence and real-time messaging to quickly communicate vital information, such as a customer's order status or a breakdown in a back-end process, to the right person at the right time," BEA chief technology officer Scott Dietzen said.
As Sunnyvale, California-based Yahoo chats up the real-time enterprise angle, it is hardly alone in that endeavor. Microsoft's own enterprise IM products are now on the market; IBM's Lotus offerings appear to have won the most enterprise accounts to date; and AOL's consumer IM program is still widely used within corporations, in many cases because it is downloaded directly by employees.
Matter of Time
Enterprises will flock to instant messaging once the technology is secure and standardized, according to Yankee Group analyst Paul Ritter.
"There are efficiencies and cost savings to be had that will drive adoption," he told the E-Commerce Times. "The ability to have real-time collaboration and to do it without traveling to meetings or making a lot of expensive calls is compelling."
However, citing Yankee Group figures that show the vast majority of today's25 million-plus corporate IM users are using free downloaded versions, Ritter said it may be some time before enterprises see value in paying for this technology.
"Every real advance or significant upgrade is a big step in that direction," he noted.
The upgraded edition of Yahoo! Messenger will carry a price tag of aboutUS$30 per user per year.