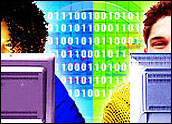 Given the pace of business today, instant messaging seems like a natural fit for the global enterprise, enabling far-flung employees and contract workers to communicate in real-time throughout the workday.
However, many enterprises are balking for a simple reason: IM and other peer-to-peer applications can pose serious security risks. That point was underscored last week when Yahoo released a patch to fix a buffer overflow vulnerability in its IM and chat programs.
The security issue might seem serious enough to keep true enterprise-quality IM on the shelf for a while longer, but vendors are forging ahead with new programs to solve this dilemma and carve out a chunk of market share in this nascent sector. Will they succeed in establishing IM as a must-have enterprise application?
Race for Market Share
"Security is a huge concern, but the momentum is still driving adoption of IM," Gartner analyst Lou Latham told the E-Commerce Times, adding that the move away from business travel after September 11, 2001, helped speed IM uptake for long-distance collaboration. "The rush by vendors to produce versions of IM that will stand up to network security standards is a reflection of demand," he said.
Although IBM's Lotus already has captured a strong portion of the enterprise IM market with its RealTime collaboration suite, other vendors are eager to tap into the same vein or even to expand the corporate IM market to more closely resemble the consumer model, where boundary-less communication is possible.
Giant Approaching
For example, Microsoft unveiled a beta version of an upgraded real-time communications (RTC) platform in March, saying its server platform would greatly expand the realm of collaborative communications.
"Microsoft's vision is that real-time communication goes well beyond instant messaging," Anoop Gupta, vice president of IM at the software giant, told the E-Commerce Times. "We think if given the tools, corporations will change the way they communicate."
Gupta noted that e-mail, barely present within enterprises less than 15 years ago, is now almost universally available. "I think you'll see a similar trend with IM," he said, adding that Microsoft envisions workers sharing documents and images in real-time across networks that range from desktop PCs to mobile devices, such as the Tablet PC platform.
Microsoft is hardly alone in that quest. In addition to dozens of smaller vendors, some specializing in customer-oriented IM, large network firms like Sun and HP all have made moves to grab a piece of the enterprise IM pie. "Presence-based communications will revolutionize the way information workers collaborate," Gupta said.
They Like It
Enterprise-quality IM offerings are key because consumer programs not only may be less secure, but also are gaining notoriety in corporations as time-wasters. Of particular concern is unauthorized downloading and use of such programs, which leaves corporate networks vulnerable to viruses, trojan horses and other threats.
"Corporations have to have policies on how their employees deploy these programs on their networks," Jerry Brady, chief technology officer of network security firm Guardent, told the E-Commerce Times. "And then they have to enforce them."
But Gupta said adoption of consumer IM is just further evidence of users' appetite for this technology. "No one has to be convinced this can be a useful tool for their workers," he said.