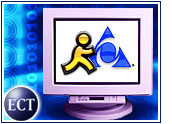 AOL has told the Federal Communications Commission (FCC) that it will pull back from plans to offer server-to-server interoperability between AOL Instant Messenger and other messaging services.
Citing technical difficulties and market dynamics, the company indicated in a letter to the FCC that it was forced to change course. AOL also pledged to provide interoperability in other ways rather than directly at the server level, as previously promised.
According to Nielsen//NetRatings, AOL is the clear market leader in instant messaging. In May, more than 41 million consumers used one of the four largest IM networks — AOL's AIM, ICQ, MSN Messenger and Yahoo! Messenger.
Research firm Gartner has estimated that there are now more than 100 million IM users worldwide, and that IM will be used more often than e-mail in a few years.
Apple Accepted
It seems that nearly every week, a new IM initiative pops up or existing IM services are expanded. Last week, at Macworld New York, Apple took the wraps off a tool called iChat, which will let Apple's customers and AOL users exchange instant messages with each other.
During his keynote speech at MacWorld, Apple CEO Steve Jobs boasted that Apple was the first company to be invited into the AOL Instant Messenger fold.
And Brian Croll, Apple's senior director of software product marketing, told the E-Commerce Times that iChat "is compatible with the whole AIM network."
In fact, Croll said, Apple has built myriad features around its IM effort, including conversation bubbles and "cartoon stuff." In addition, the technology takes advantage of Mac drag-and-drop and other features.
FCC Concerns
The FCC has been watching AOL's IM plans carefully since the company announced it would purchase Time Warner for US$106.2 billion in 2000.
At that time, the commission required AOL to level the IM playing field by finding a way to link its IM service with other service providers' offerings so that users of different Internet service providers (ISPs) could chat easily.
The company is required to report to the commission on the progress of its server-to-server interoperability efforts every six months. From the get-go, AOL acknowledged the difficulties of providing such interoperability.
Technical Challenges
Its first report to the commission outlined technical challenges in protecting privacy, network performance and security.
The company noted in January that different IM services offer different, unique features and that "the protocol used internally by each IM service will be unique." Server-to-server interoperability would allow messages to be translated between protocols.
At that time, AOL reported that it had created a prototype gateway and had completed a limited trial between AIM and the Lotus Sametime service.
While the company was able to move text messages back and forth between services, it warned that the test was "narrow" in scope and that the prototype was not designed to scale up to accommodate the message volumes found in the real world.
In its latest missive to the FCC, AOL said it had curbed its server-to-server efforts in favor of other initiatives.