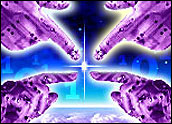 In the not-too-distant future, e-commerce technology not only will become smarter and faster, but could completely transform the way companies deal with internal information and customer service.
Moreover, industry experts say technologies in the pipeline — such as interactive company portals that can communicate with other portals in real-time — could drastically alter the sales process.
This change will occur as new features are deployed in the next three to five years, bringing together several separate technologies that were developed over the past decade but that have not been used extensively for e-commerce yet.
"We're starting to see the theories of the mid-'90s play out in the real world now," Aberdeen Group research director Kent Allen told the E-Commerce Times.
Collaboration Key
One promising concept is the idea of "collaborative commerce," in which companies set up smart hubs that are not only used by their own customers, but also interact with other companies' sites.
Particularly on the business-to-business (B2B) side, this innovation could change the way companies do business with one another, according to Mark Byrd, senior vice president of product management at VerticalNet.
Byrd told the E-Commerce Times that there will be movement in the next three years toward shared portals. Using these portals, companies that regularly do business with one another will be able to access real-time information about product availability and pricing. In addition, they will be able to send invoices and pay bills.
"You're eventually going to be seeing lots of these things done in a shared environment," Byrd said. He noted that interactive, real-time portals are being made possible not only by increasing use of high-speed broadband Internet access, but by development of markup languages like XML, which allow Web pages from one source to be displayed by any other system.
Breaking Barriers
In order to achieve the potential of this "real-time" future, it is vital to break down barriers between different departments and companies, allowing constant updates of information related to inventory, product availability and shipping status. Some of this separation will require plug-and play software add-ons geared toward specific divisions of a company and their specialized functions, according to Byrd.
"Off-the-shelf plug-and-go would be nirvana," Byrd said.
Experts say the benefits of such technology could be considerable for consumers. For example, if companies have real-time access to information, they can better gauge deliveries and production and can keep supply more in line with demand. This streamlining, in turn, could result in lower prices and better overall service, especially as companies react more quickly to complaints and customer preferences.
Supercharged Kiosks
In addition to merely reaping indirect benefits, consumers soon could have more direct contact with the next generation of e-commerce technology.
Simon King, BroadVision's vice president of advanced strategies, pointed to new "smart" kiosks that will go beyond serving as information touchpoints. Such kiosks will see increased use for actual purchases and financial transactions.
For example, King told the E-Commerce Times, a customer who sees a TV on Circuit City's Web site but does not live near a Circuit City store could visit a nearby kiosk to obtain a more detailed view of the TV's features and picture quality. The customer could even purchase the TV directly from the kiosk for later delivery.
The same technology is expected to turn bank ATMs into product-selling machines. "I would not be surprised if you could do mortgage banking or loan origination on a retail store ATM," King said.
Already, a technology firm called Cyphermint is using BroadVision software in kiosks being tested at a number of 7-Eleven convenience stores. Using these kiosks, customers can cash checks, purchase money orders and access other financial and e-commerce services.
IM's New Role
New real-time technology also is expected to transform instant messaging (IM) from a chat enabler into a serious e-commerce asset.
According to Lenley Hensarling, vice president of product development at consulting giant J.D. Edwards, instant messaging likely will be beefed up to handle everyday business processes. In the B2B arena, for example, IM programs could be programmed to notify companies automatically when supply contracts are slated to expire, or to provide updates about whether provisions of sales agreements are being met.
In business-to-consumer (B2C) e-commerce, IM systems could be configured to send alerts whenever maintenance is required on a new car, for example. Such systems also could follow up sales with narrowly targeted offers for related products based on a customer's specific circumstances and buying patterns.
"The new messaging capabilities hold some great promise," Hensarling told the E-Commerce Times.
He added that new technologies will let companies more easily create communities of like-minded customers, and will offer more secure ways to vouch for information that is sent back and forth over a network.
Speeding Things Up
Martin Boyd, director of product marketing at Ariba, said the real-time aspect of future e-commerce technologies will allow users to engage in "threaded discussions" as they negotiate contracts and share data.
"The key is that everybody is able to see the latest documents," Boyd told the E-Commerce Times.
He added that increasing use of markup languages like XML could quicken the pace of change. "We'll see some slow adoption of these things in the next eight or nine months, but it should speed up after that," he noted.
Aberdeen Group's Allen added that interoperable coding also could speed up the rollout of wireless mobile devices, which can keep workers at remote sites up-to-date on commerce-related matters.
On the Same Page
According to Dave DeCaprio, chief architect of infrastructure services at i2, new technologies should take e-commerce beyond the capabilities of current Web browsers, and should enable more dependable services in the wireless realm.
He said that smart interactive portals, accessible from wired or wireless locations, are the best way to consolidate information in a single place, separate mission-critical functions from other operations and control who has access to specific data.
Indeed, the overall goal of e-commerce technology innovation seems to be to ensure that all participants in a market are on the same page, even in a constantly changing environment.
"If you can get employees and customers talking the same way with each other at all times, it's going to improve the overall operations," DeCaprio told the E-Commerce Times.