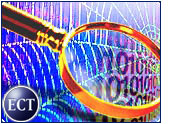 Yahoo! has unveiled a new search engine in an effort to win back the online search crown all but stolen by business partner Google.
The company said the new search option, which will be rolled out further over the next few days, features a cleaner interface and offers faster ways to find results.
It also includes technology Yahoo! acquired last December through its US$235 million purchase of Inktomi's consumer search engine business.
Consumer Demands
Dan Rosensweig, COO of Yahoo!, said the improvements are aimed at giving Web users exactly what they say they want in a search engine.
"In the last eight months, we have conducted extensive research to understand what our users are looking for in a search experience," he said. "The result is a more effective way for users to find what they are looking for on the Web."
The result is also remarkably similar to Google. Separated from the main Yahoo! site, the search engine at http://search.yahoo.com features a stripped-down interface that resembles the bare-bones Google front page.
Sincere Flattery
Ironically, Yahoo! was the first major portal to partner with Google, which has since become a major force in the search category. Google also has leveraged its search dominance to become more of a portal, with beta news and shopping sites in development.
"Google just got it right, from the technology to the minimalist interface," Nielsen//NetRatings senior analyst Lisa Strand told the E-Commerce Times. "The way it took off, it's been clear it really answered a need consumers had for fast search results."
Strand added that as Internet users have become more experienced, they have by and large drifted away from once-popular index sites like the original Yahoo! home page and toward more refined search tools like Google.
At the same time, search has become an increasingly important business for all online companies, as evidenced by Friday's deal between Google and e-tail giant Amazon.com. Under terms of that multiyear pact, Google's sponsored links will appear on some Amazon pages.
More and Less
Sunnyvale, California-based Yahoo! said the new search feature relies less heavily on banner and graphic ads and more on ad relevancy and sponsored search results, two areas in which Google has made major strides.
Users can choose among 30 different languages and can search the entire Web, or look for pictures only, within Yahoo's yellow page listings or in other customized formats.
Yahoo! also said it is working to integrate Inktomi technology into its vertical categories, such as Yahoo! Shopping and HotJobs.
Meanwhile, Overture is integrating its recent purchase of onetime search kingpin AltaVista. And a research report published last week suggested that recent moves by Microsoft indicate the company plans to use its MSN platform as a launch pad to delve deeper into the online search and ad placement arena.