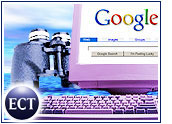 It is widely known that Google has become a dominant player in the search engine space. Founded in September 1998, the company is at least three years younger than most of its competitors but already has surpassed its rivals in terms of popularity.
Google regularly draws enough visitors to rank it among the top five most-visited sites on the Web, trailing only established Internet goliaths, such as MSN, Yahoo! and AOL, according to Nielsen//NetRatings traffic data.
"People turn to search engines more and category sites less as they become more familiar with the Web, and Google has been one of the biggest beneficiaries of that in the past year or so," NetRatings director and senior analyst Lisa Strand told the E-Commerce Times.
But as scores of failed dot-coms can attest, big crowds do not always mean big money. Will all that traffic translate to long-term business success for Google? Can the company leverage its popularity to reap long-term profits?
Questions, Answers
Google is confident that it can.
Omid Kordestani, senior vice president of worldwide sales and field operations at Google, told the E-Commerce Times that the company's growth has coincided with the recognition that measurable results are key to attracting advertising dollars online.
In addition to its own consumer search site, Google powers search functions for other Internet sites, such as AOL, EarthLink and Yahoo. That business has been the company's mainstay, and some of the deals have been big ones. In July, for example, Google landed a US$100 million, three-year deal to provide paid listings to Ask Jeeves, ousting rival Overture.
"The business model evolved as we became really good at figuring [out] how to make money on search through keywords and targeted ads," said Kordestani, Google's twelfth employee in a workforce that now numbers more than 400. "The beauty of a diverse revenue stream is that we were able to take advantage of the fast growth in the keyword and targeted search space."
Over and Out
Meanwhile, Overture's success, which is fueled mainly by its keyword and paid listings businesses, gives analysts and Google supporters reason to believe Google can become another bright spot of profitability in the Web space.
"As more traditional companies, like consumer packaged goods firms, come online, they are looking around and seeing that search should be at least a part of their online strategies," said NetRatings' Strand. "It's becoming even more important as other forms of advertising online start to show less results over time."
Diversified Stream
Meanwhile, Google continues to target enterprises with what Kordestani calls "Google in a box," software that allows corporations to search their own in-house data stores.
The company's consumer business has grown most rapidly, but even that segment consists of a diverse audience, he added, with millions of at-work surfers amounting to a desirable marketing audience.
"We also do it on a global scale," Kordestani said. "Overseas growth is key to our success and in bringing continued results to our customers."
Google recently hit a bump in its overseas expansion efforts when China blocked its site, but the company said it remains focused on expanding its worldwide reach.
"Our focus has always been on providing value," Kordestani noted. "We may not be the oldest site a company can partner with, but we think we provide the most value, and that will pay off in the long run."