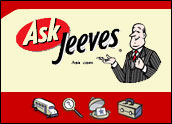 Further strengthening its position atop the search engine hierarchy, Google has inked aUS$100 million, three-year deal to provide listings to search engine Ask Jeeves, whereit will displace rival Overture.
Starting in September, Google will replace Overture as the provider of premium paidsearch results on Ask Jeeves. The deal is expected to generate $100 million in salesover the next three years, with Ask Jeeves receiving the lion's share of that revenue.
Overture has been supplying paid listings to Ask Jeeves since mid-2001. The latest upsetcomes about two months after Google cemented a deal to supplant Overture as the paidlistings provider for America Online.
More Pay To Play
Ask Jeeves Web Properties president Steve Berkowitz said the deal builds on the growingimportance of paid listings within the company's business model. Paid placement salesrose 40 percent between the first and second quarter, he added. More paid listings alsomeans a more predictable revenue stream, he added.
"The deal with Google also improves our returns substantially," Berkowitz said. "Weexpect our revenue from paid listings on Ask Jeeves and Teoma.com to more than doublefrom Q3 to Q4 and beyond as a result of this agreement."
Consumers Buy In
Lisa Strand, director and chief e-commerce analyst atNielsen//NetRatings, told theE-Commerce Times that more search engines are embracing paid listings because consumershave shown little resistance to them.
"People understand that the money to pay for these things has to come from somewhere,"Strand said. "They're not paying, and as long as they are labeled and broken off,consumers don't seem to mind."
At the same time, more companies are recognizing that having a presence in searchengine results is an integral part of overall marketing strategy, according to Strand."We tell our clients not to overlook it as an option," she noted.
Overture Okay?
Overture CEO Ted Meisel, who previously described the loss of the AOL contract as "aminor setback," told reporters that despite losing Ask Jeeves, Overture will reporthigher-than-expected second-quarter earnings next week and will raise its outlook forthe rest of the year.
Overture recently has signed deals with Lycos, AltaVista and CNET.
Bottom-Line Boost
Ask Jeeves, meanwhile, clearly needs the bottom-line boost that Google results might beable to provide. It posted a loss of $6.5 million on $17.6 million in revenue duringthe second quarter. The company also found it difficult to post profits despitebranching out into enterprise services and other areas.
Google, on the other hand, has risen to prominence quickly. Often cited as the nextlogical dot-com IPO, the search engine now ranks third behind Yahoo! and MSN in termsof number of searches, according to NetRatings, and it often ranks ahead of competitorsin terms of amount of time spent searching for results.